The Collaborative Learning Environment (CLE) is UCSF's space for online teaching and learning. It can be accessed through a web browser and is best supported by Firefox, Safari, and Chrome. Users can also download the mobile app to navigate CLE content.
Other content that is embedded into the CLE, like Class Capture or Articulate modules, may work better in certain browsers than others.
If you do not see a CLE course that you expect to be enrolled in, contact the course faculty to check your enrollment status.
To access the CLE through a web browser:
Log on to the CLE (cle.ucsf.edu).
Select Log in

from the top-right corner of the page.
Enter your MyAccess

credentials.
After successfully logging in to MyAccess, you will be directed to your CLE Dashboard page.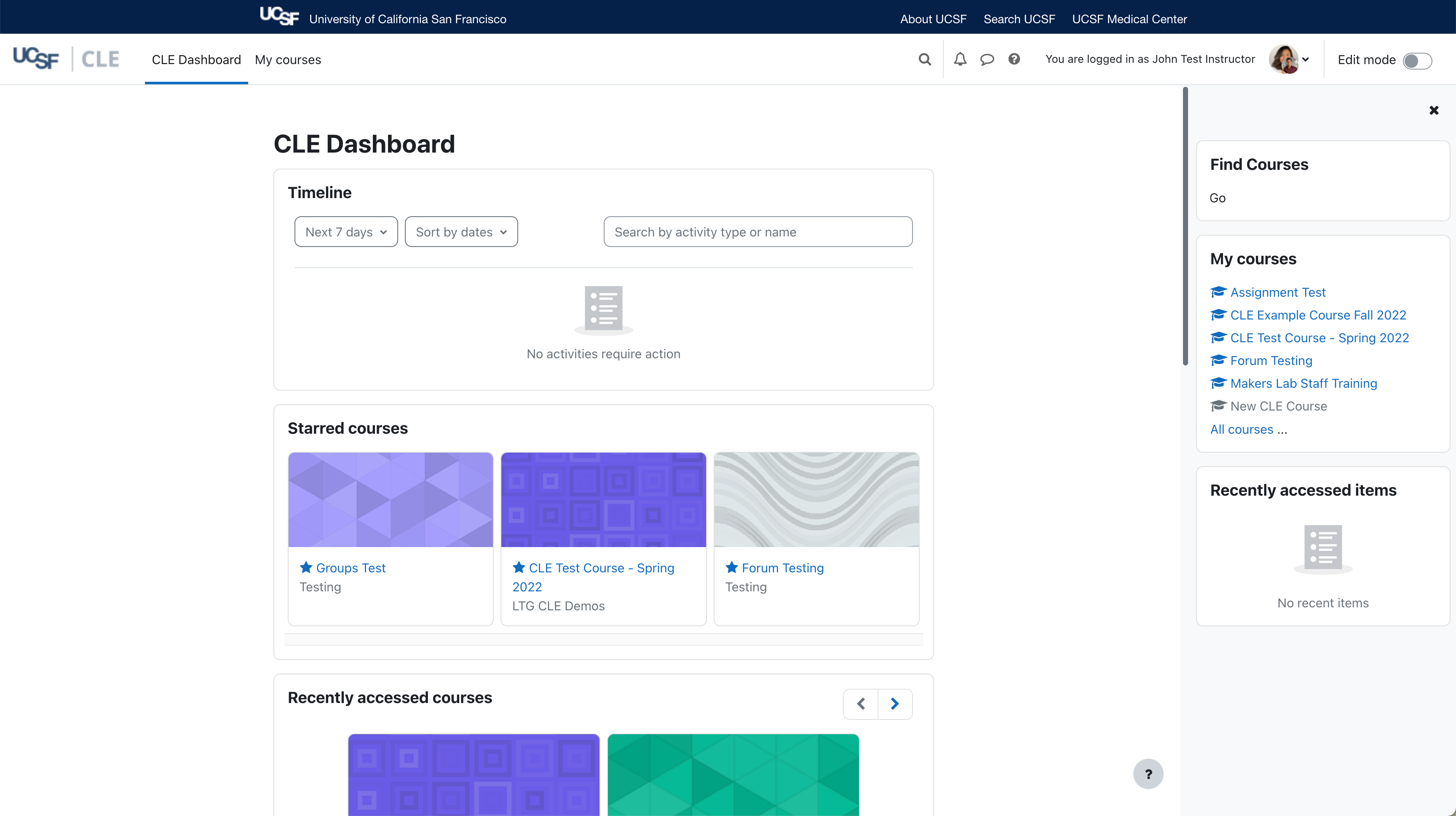 CLE Dashboard Learn about the CLE Dashboard, the customizable homepage of the CLE.
The CLE is accessible via the Moodle mobile app. One of the advantages of using the mobile app is that users can view course activities and download materials for offline use. This allows students to download lecture notes at home and then read them when they are on the go without using their mobile data or WIFI.
The Moodle Mobile app is available for free from Google Play and the Apple Store.
Download the app from App Store (iOS) or Google Play (Android)
Enter your MyAccess login and password.

Once you select a course title, the course overview page will appear:

The cloud icon indicates that the activity can be downloaded for offline viewing.
Course blocks can be accessed by clicking the gray tab on the right
Click the list icon to access the course index
Select the section titles to view resources and activities in that section
The redirect icons next to activities indicate that the item is not supported on the mobile app; select the icon to open the activity in a browser.
Moodle Mobile App Learn more about the Moodle Mobile App.