Access the preferences page to see a list of settings that you can adjust to help you use the CLE.
Review the sections below to learn more about how to access the preference page and what the various settings are.
Expand a setting to learn more.
Edit Profile
Your Profile allows other faculty, students, and staff to know who they are collaborating and learning within a CLE course. Your profile can be accessed directly from the user menu top right or from a link in the user's Profile page.
CLE User Profile Review your options to update your profile.
You cannot edit your name in the CLE because it is linked to your UCSF identity that was created by central IT when you joined the University. However, you can add a description of yourself and your work, add or change your profile picture, tag your interests, or display an alternate name or phonetic spelling.
Preferred Language
This setting displays the preferred language for the CLE interface, which is set to English by default.
Forum Preferences
In this section, you can update preferences related to forum notifications, views, and tracking.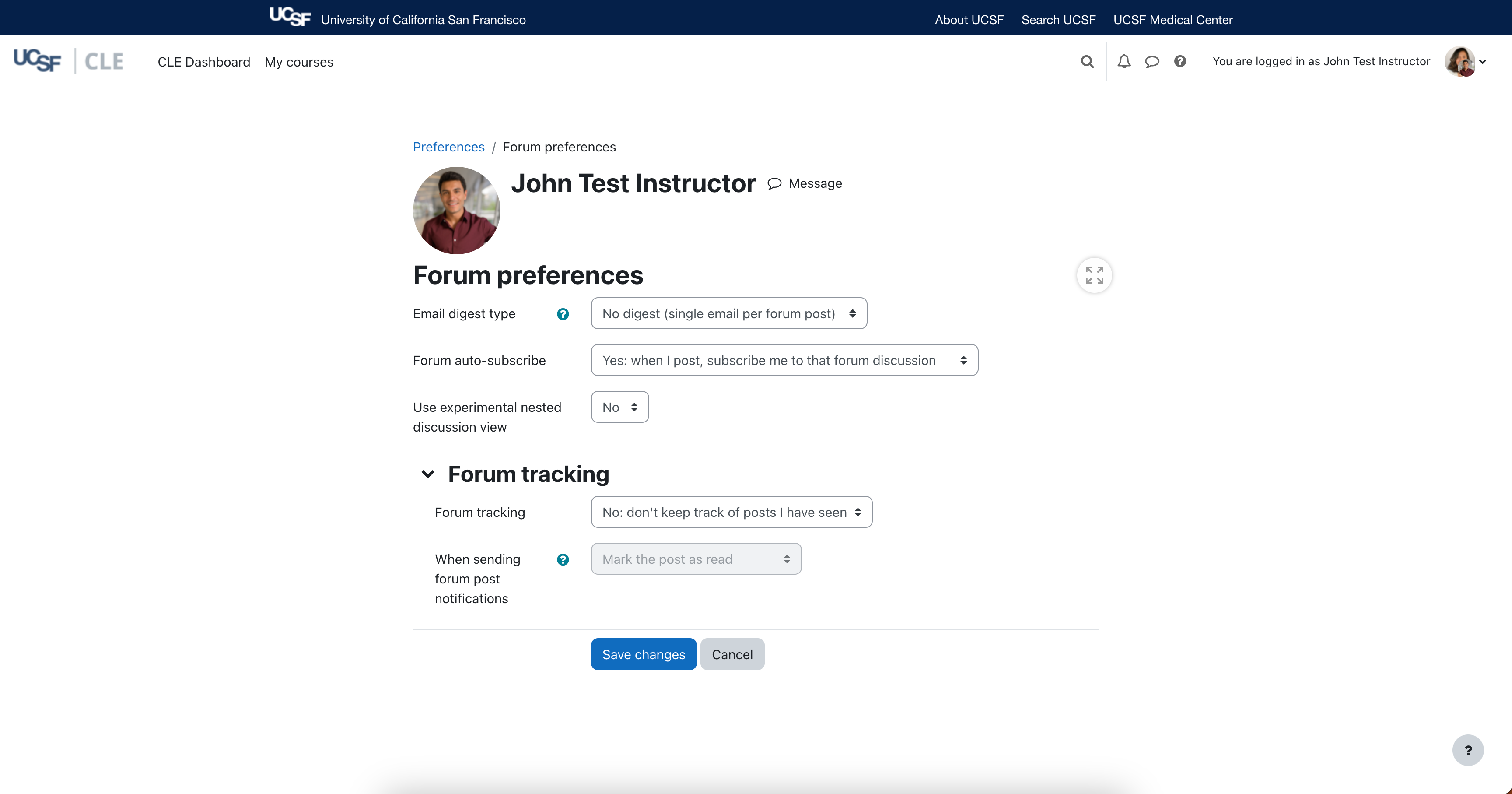 Forum preferences
Select how to receive email notifications about posts on forums that you are subscribed to. Choose between the default option of No digest (one email per forum post), Complete (daily email with full posts), and Subjects (daily email with subjects only).
Select whether or not to auto-subscribe to a forum. The default setting is Yes. If you change this setting to No, you will have to manually subscribe to forums.
Select whether to change the default forum view to Yes, use the experimental nested discussion view.
Forum tracking
The default setting for forum tracking is No, don't keep track of posts I have seen. You can choose to change this to Yes, highlight new posts for me.
Editor Preferences

The Atto HTML editor is the default editor in the CLE; you have the option to set the TinyMCE editor as default.
The Atto editor is set as the default editor because it improves usability and accessibility, and is also mobile-friendly.
Calendar Preferences
In this section, you can set how the calendar is displayed.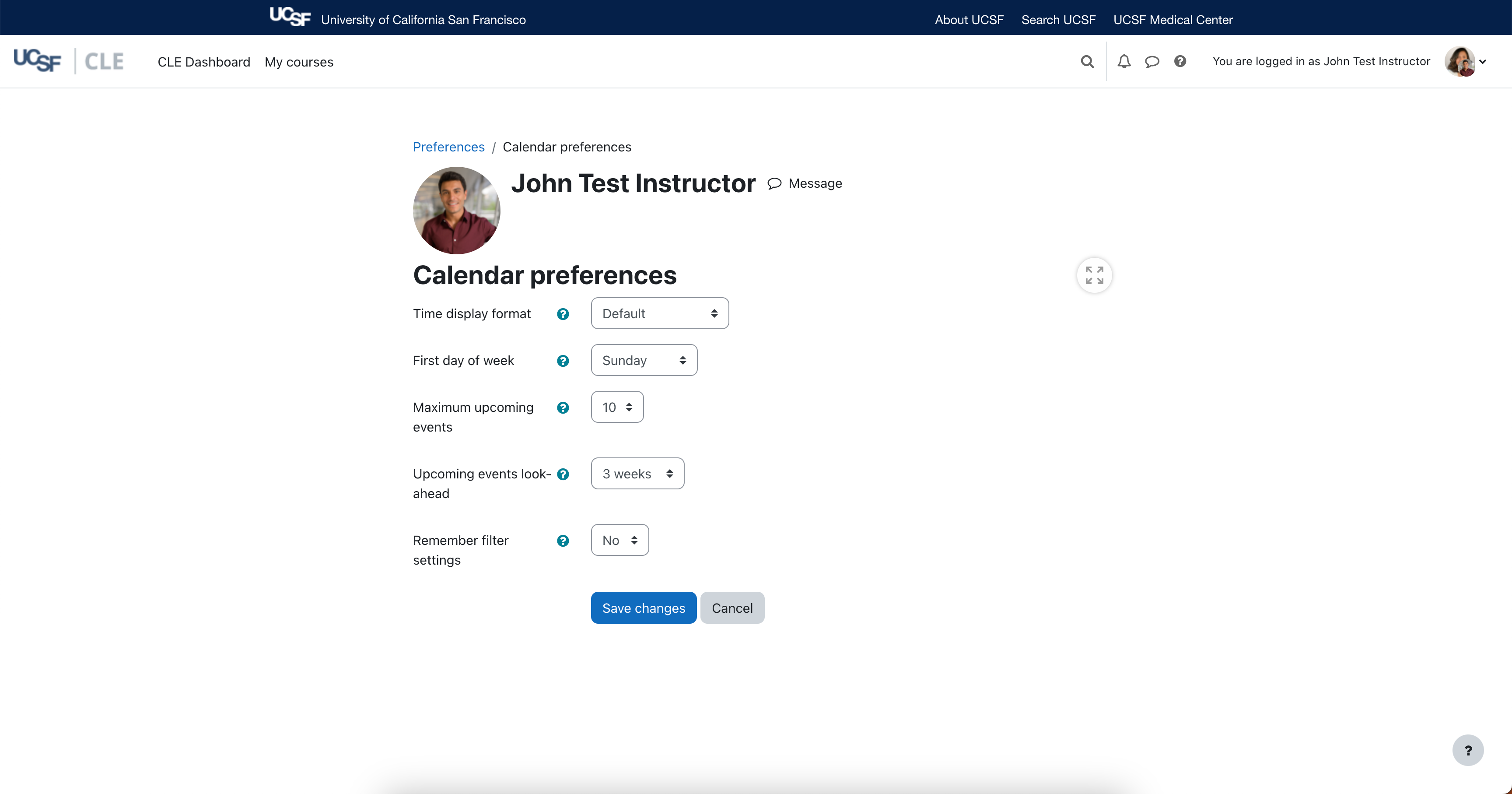 Select how the time is displayed. The default setting is 12 hours (am/pm). You can change this setting to 24-hour time.
Select whether to change the default Sunday as the first day of the week.
Select whether to change the default 10 as the maximum number of events displayed on the calendar. If you change this number to a higher number then it will take up space on your screen.
Select whether to change the default 3 weeks as the maximum timeframe for upcoming events to be displayed. You can change this to a timeframe between 1 day and 1 year.
Select whether to change the default No to Yes for whether the CLE will remember event filter settings.
Security Keys
A security key or token enables other systems to access the CLE securely. A security key is typically used for secure RSS feeds or web services.
Message Preferences
The messaging feature allows users to send private messages to other users within the CLE.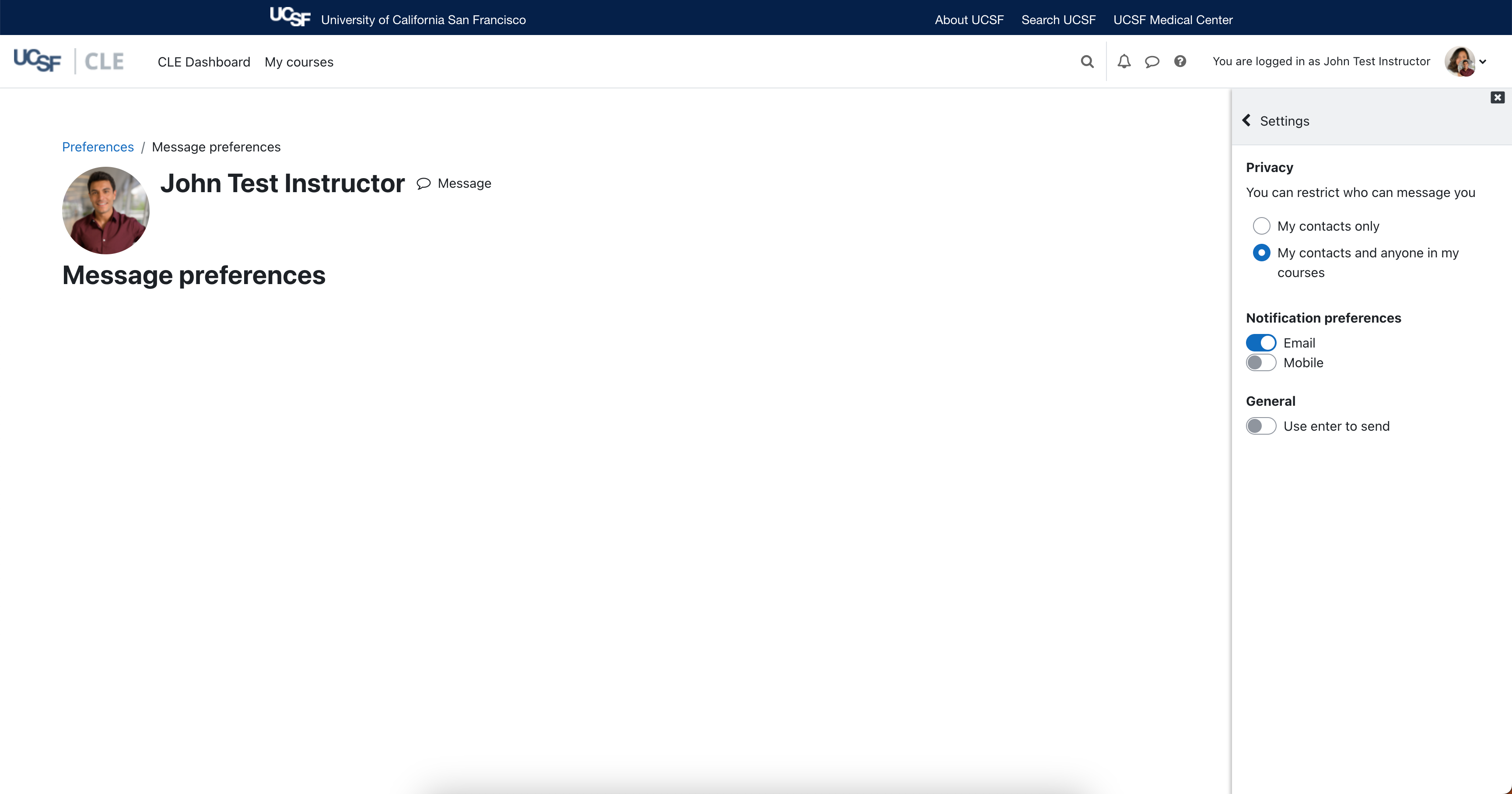 The messaging settings are controlled on the right-hand menu.
Privacy
Choose whether contacts only or contacts and anyone in my courses (default) can send you messages
Notification Preferences
Choose whether you want to be notified of messages via Email only (default) or through the mobile app as well.
General
Select whether you want to be able to press enter to send messages. The default setting does not send a message when enter is pressed.
CLE Messaging Tool Learn how to send private messages to any CLE user.
Notification Preferences
Select how you'd like to be notified about various activities such as assignments, forum posts, media assignments, and more. You can choose to be notified via Web, Email, and/or Mobile. Email is selected by default for everything.
CLE Notifications Learn how to review and customize notification preferences.