Activity Completion Tracking enables the tracking of progress for activities and resources in a course, accessible to both faculty and students. Once enabled, a checkbox will be displayed next to each activity or resource on the course home page. As students fulfill the specified criteria set by the instructor for completing an activity or resource, the corresponding checkbox will be automatically checked, visually indicating its completion status. The criteria can vary from simply viewing a resource, achieving a specific score, or requiring manual marking by the student to indicate completion.
Why use Activity completion?
If this feature is enabled, it is a helpful way for students to be able to track their progress in a course. The student has an easy-to-see checklist of what they have done so far.
It can also be linked to Course completion to allow both students and teachers to monitor progress toward completing a course. As each activity is checked off as "complete", the student moves further completing the course.
It can also be linked to Restricting access, which allows instructors to set criteria upon which a student is allowed to progress through a course and access materials.
Activity Completion Key:

Activity Completion is only available if you enable completion tracking in the course settings. Once enabled, you can apply it to each activity or resource and specify the completion requirement.
After turning on Completion Tracking for a course, any new resource or activities you add to the course will default to have completion tracking turned on. It is good practice to check the completion tracking settings for each new item as you add it to the course.
To enable completion tracking in your CLE course:
Log onto CLE, and locate your course site

where you would like to add activity completion.
At the top-right of the CLE, turn Edit mode on.

On the settings page, scroll down to the Completion tracking section and click the title to expand and reveal its options.
To turn completion tracking on, select 'Yes' from the Enable completion tracking drop-down menu.
Click Save changes.
Depending on the type of activity, there can be different completion requirements. For example, a Page might have the requirement to require a view; a Quiz might have the requirement to require a grade, while a Forum might have the requirement to require posts/discussions/replies.
To access these settings, follow these steps:
Log onto CLE and locate your course site

where you would like to add activity completion.
Turn Edit mode on.
Editing icons will now appear to the right of each activity.
Click Edit and select the Edit settings () icon for the activity you wish to turn on completion tracking for.
Scroll down to the Activity completion section. Click on the title to reveal its options.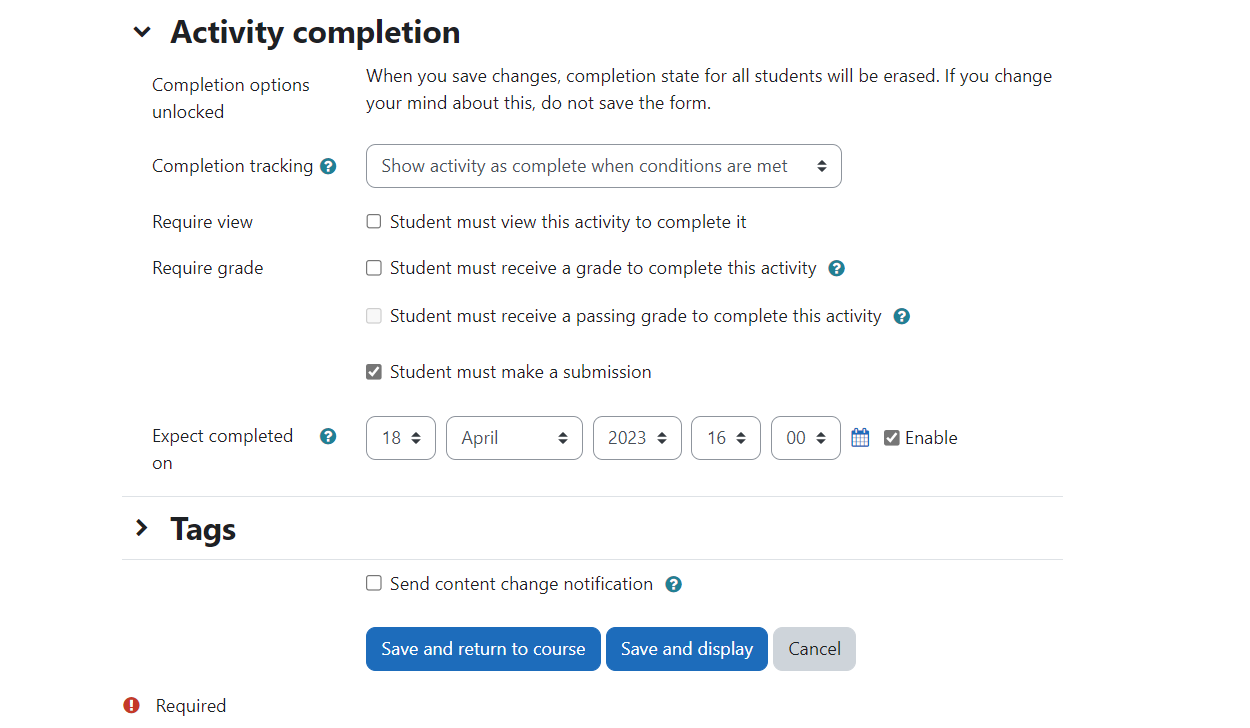 There are three options for tracking progress:
Do not indicate activity completion (none): the current default setting
Students can manually mark the activity as completed (Student controlled): each item will have a check box the student can use to track their progress
Show activity as completed when conditions are met (Automatic tracking based on progress): the faculty sets the criteria for completion
If automatic tracking is used, there are several options for completion based on the resource or activity. For example, if automatic tracking is used on a discussion forum, activity completion might be satisfied once the student creates their initial post and replies to at least two other students.
If Activity Completion is used within the course, a report is available for faculty to help track progress. This report displays the individual student and their progress checks for each activity and/or resource tracked.
To view the Activity Completion Report:
Managers, teachers, non-editing teachers, and any other users with the report progress viewing capability can view information about activity completion by going to:
By clicking on the appropriate completion boxes, teachers can mark assignments as completed on students' behalf. The capability Override activity completion is required for this and is by default enabled for both editing and non-editing teachers. The teacher's red border around completed tasks is visible in the activity completion report.