Course editors (managers, instructors, etc.) can add Activities and Resources to a CLE course. Activities and Resources are a fundamental part of any CLE course; there are nearly 40 Activities and Resources to choose from when creating a new CLE course or updating an existing one.
Add an Activity or Resource
Navigate to the course you are editing.
While in the CLE course, there is a switch labeled Edit mode on the top right-hand side, click the button to turn Edit mode on.
Go to the proper section and click Add an activity or resource.
A page will open up with three tabs: All, Activities, and Resources. Create a "favorites" tab, Starred, by clicking the star below any activity or resource. It is recommended to star any activities or resources that are often used.
Select the activity or resource you are adding - this will open another page where you can configure the activity or resource as needed.
Click Save and display or Save and return to course to finish.
Activities in the CLE are items that students can contribute to directly or that require interaction either among students or between students and the instructor.
Assignment Add an assignment activity to collect work from students, review it, grade it, and provide feedback. Submitted assignments are only visible to instructors, not to other students.
Custom certificate Create a custom certificate to award students for completing specific modules or courses.
Forum Create a space for participants to have asynchronous discussions.
H5P Create HP activities directly in the CLE and add them to any course. H5P is a tool that allows anyone to create richer, interactive online content and improve online learning experiences.
Lesson Convert course content into a linear or branching lesson to encourage more learner engagement. Lessons can contain text, images, video, or any other media.
Media Assignment Similar to the Assignment activity, the Media Assignment can be used to add an assignment activity to collect work from students, review it, grade it, and provide feedback. Only media files are accepted as submissions.
Survey, Feedback, Questionnaire, or Choice Any of these activities can be used to gather data directly from students. Choose from pre-determined survey questions or create your own, depending on what information you are trying to collect.
Quiz The Quiz tool in the CLE is a powerful feature that allows instructors to design and administer quizzes, which may be automatically or manually graded.
Zoom Meeting Add one-time or recurring Zoom meetings directly to your CLE course.
Database Add a Database activity that can be used creatively for project-based scenarios. Students can input data, images, or information related to the project theme.
Workshop
Add a Workshop activity that facilitates peer assessment and feedback. It's useful for project-based scenarios where students can review and critique each other's work.
Resources in the CLE are items that an instructor can upload to their CLE course to support learning, such as a file or link.
Book Add a multi-page resource with a book-like format that can contain chapters and sub-chapters.
File Upload any file as needed in your course. This can be a picture, a pdf document, a spreadsheet, a sound file, or a video file.
Label A label is a versatile object that serves as a spacer in a CLE course. Labels can be a few displayed words or an image used to separate resources and activities in a topic section, or labels can be used to display descriptions or instructions.
Media Resource Embed video and audio content from your My Media repository. The Media@UCSF plug-in is the recommended method for adding video to your course. Playlists may also be added as a media resource.
Page Add a page to any section of your CLE course to display various types of content and multimedia such as text, images, video, audio, html code, or any combination of these.
URL Add a URL to your CLE course to link students directly to an internal (UCSF) or external website or online resource.
Provide access to a resource that is hidden from students
Sometimes you may need to keep a resource hidden from students but still allow them to have access to it. For example, you may want to provide a link to a CLE page without it showing up on the CLE home page. To provide access to the resource follow the instructions below:
1. Log on to CLE, locate your course site, and turn Edit mode on.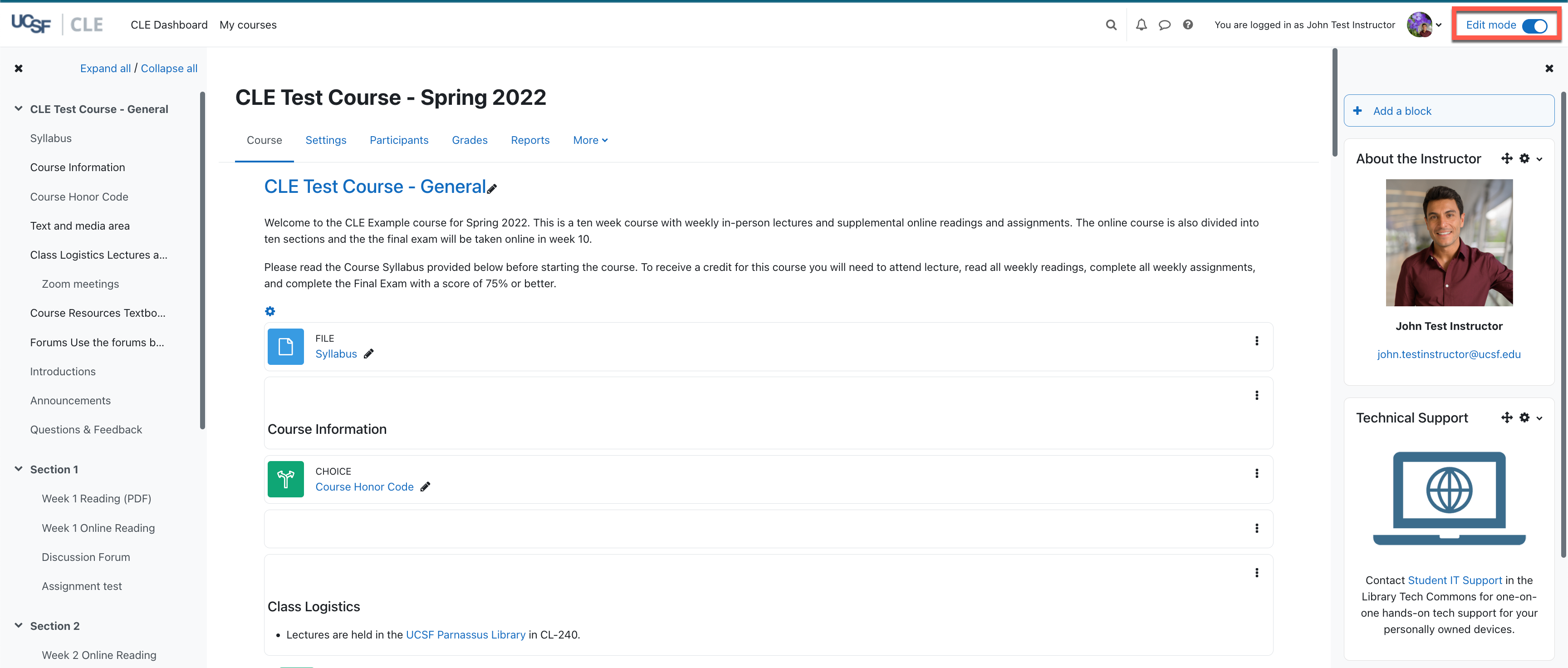 2. Locate the resource that you want students to have access to. Using the drop-down menu select edit settings.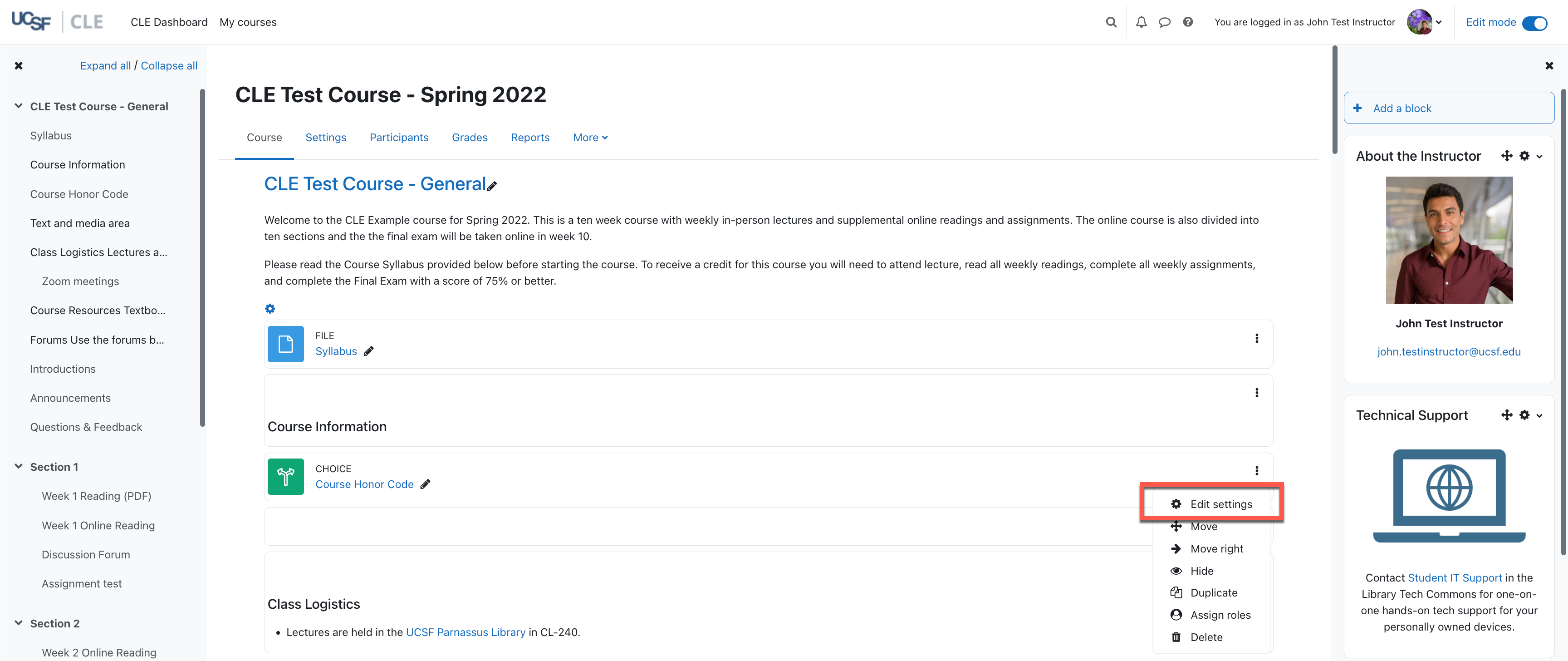 3. On the next screen, stroll down the page until you locate common module settings. Using the drop-down menu across from availability select make available but not shown on course page, then save.