The CLE makes it easy to keep track of discussions with email notifications when "subscribed" to a forum. Forum preferences allow all CLE users to determine how they want to receive the email digests of the forum activity.
Every user can set up notification preferences to control whether to receive email notifications and how to receive the notifications (eg: through the web, by email, or on a mobile device). The forum notification settings set up by the course editors will not override users' notification preferences if these are set not to receive any notifications.
Login to your CLE course: https://courses.ucsf.edu.
On the CLE course page, click

your name

or

user icon at the top right of your course page, and from the

User drop-down menu, select

Preferences.
Your Preferences page will open.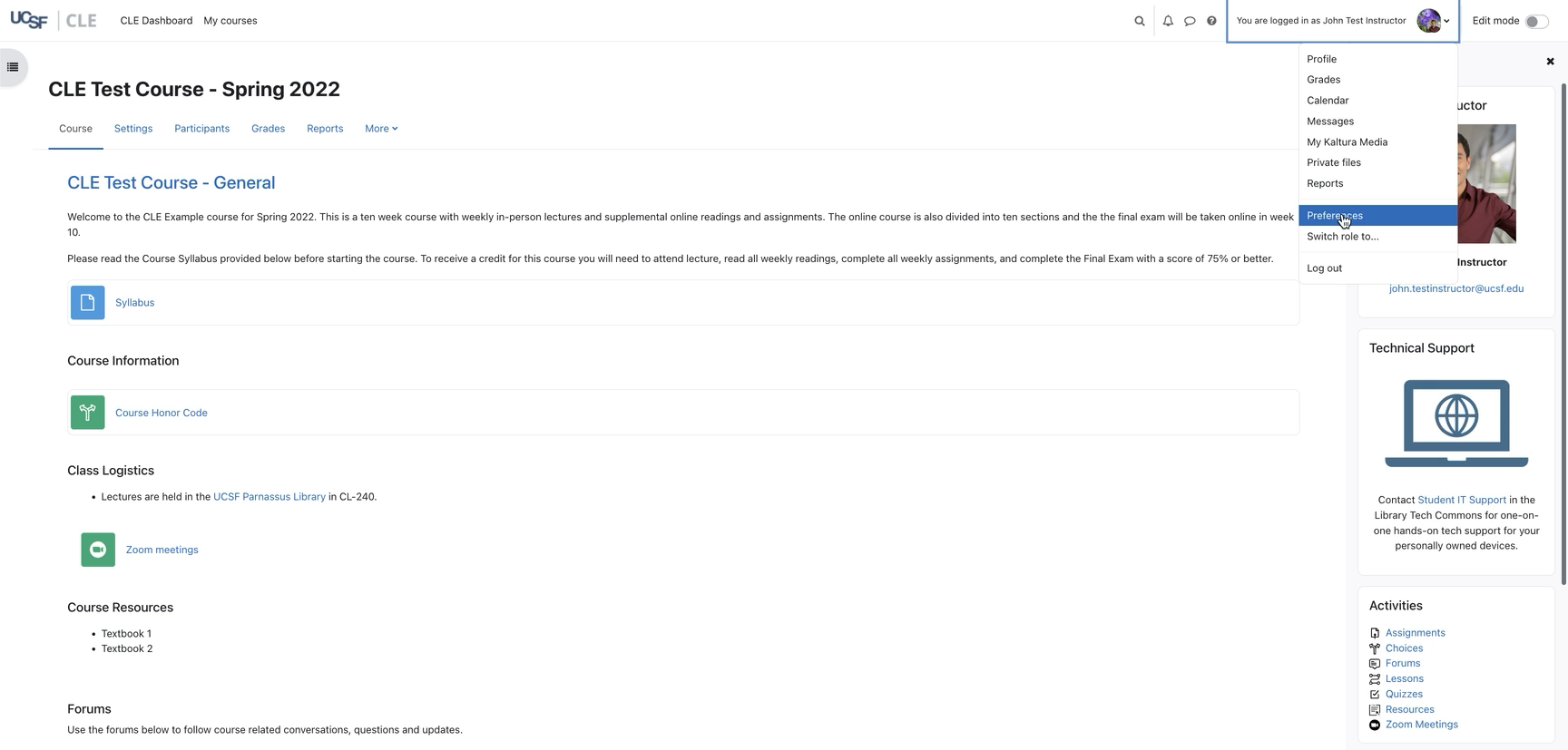 On the

Preferences page, under

User account,

click

Forum preferences.
The Forum preferences page will open.

No digest (single email per forum post):

This is the default setting. You will receive one email per forum post.
Complete (daily email with full posts):

You will receive one digest email per day containing the complete contents of each forum post.
Subjects (daily email with subjects only): You will receive one digest email per day containing just the subject of each forum post.



On the Forum preferences page, from the Email digest type drop-down menu, select how the CLE will send notifications when you are following discussions. You have the following options:
From the

Forum auto-subscribe

drop-down menu, select how you will follow discussion forums:

No: don't automatically subscribe me to forum discussions (default):

Recommended.
Yes: When I post, subscribe me to that forum:

Not recommended; You will receive email notifications from any forum you contribute to.

At the bottom of the page, click

Save changes

to finish making changes.
For each forum you add to a CLE course, you can set the default subscription mode for your students and determine whether or not they will receive email notifications when someone posts or replies on that forum.
See Add a Forum to a CLE course to learn more about how to set up a Forced subscription.