A peer review assignment enables students to provide feedback on another student's assignment submission. Peer reviews are a tool that allows communication between students and can help students master the concepts of a course and learn from each other.
In the CLE, PeerMark is the peer review assignment tool. Instructors can create and manage assignments that allow students to read, review, and evaluate one or many papers submitted by their classmates.
Some of the key features of PeerMark include:
instructors can choose whether the reviews are anonymous or attributed;

papers can be assigned automatically, manually selected by the instructor, or self-selected by the student;
students can be paired by the instructor with multiple reviewers;
non-submitting students can be allowed to review papers;
students can write reviews by responding to free-response or scale questions set by the instructor;
instructors can add libraries of questions for easy inclusion into PeerMark assignments;
questions can be edited, deleted, or reordered.
Before setting up a Peer Review assignment, you'll need to
Create a Turnitin Assignment
if you have not yet done so. To create a Peer Review assignment:
Click on an existing Turnitin assignment or create a new one. The Submission inbox page will open.
In the Submission inbox page, Launch Peermark Manager

from the green icon in the PeerMark Assignments row. The PeerMark Assignment inbox will open.




In the PeerMark Assignment Inbox,
Scroll to the bottom of the settings page and click the Save & Continue button to save your settings. This will

navigate back to the

PeerMark Assignment Inbox.
Optional:
On the PeerMark Assignment inbox, click the PeerMark Questions tab to Add Question/s or manage question libraries. Here you can add questions to guide the student reviewer throughout the PeerMark Assignment activity.


To launch Peermark reviews, click on the green paper icon on the Submission inbox page of the assignment.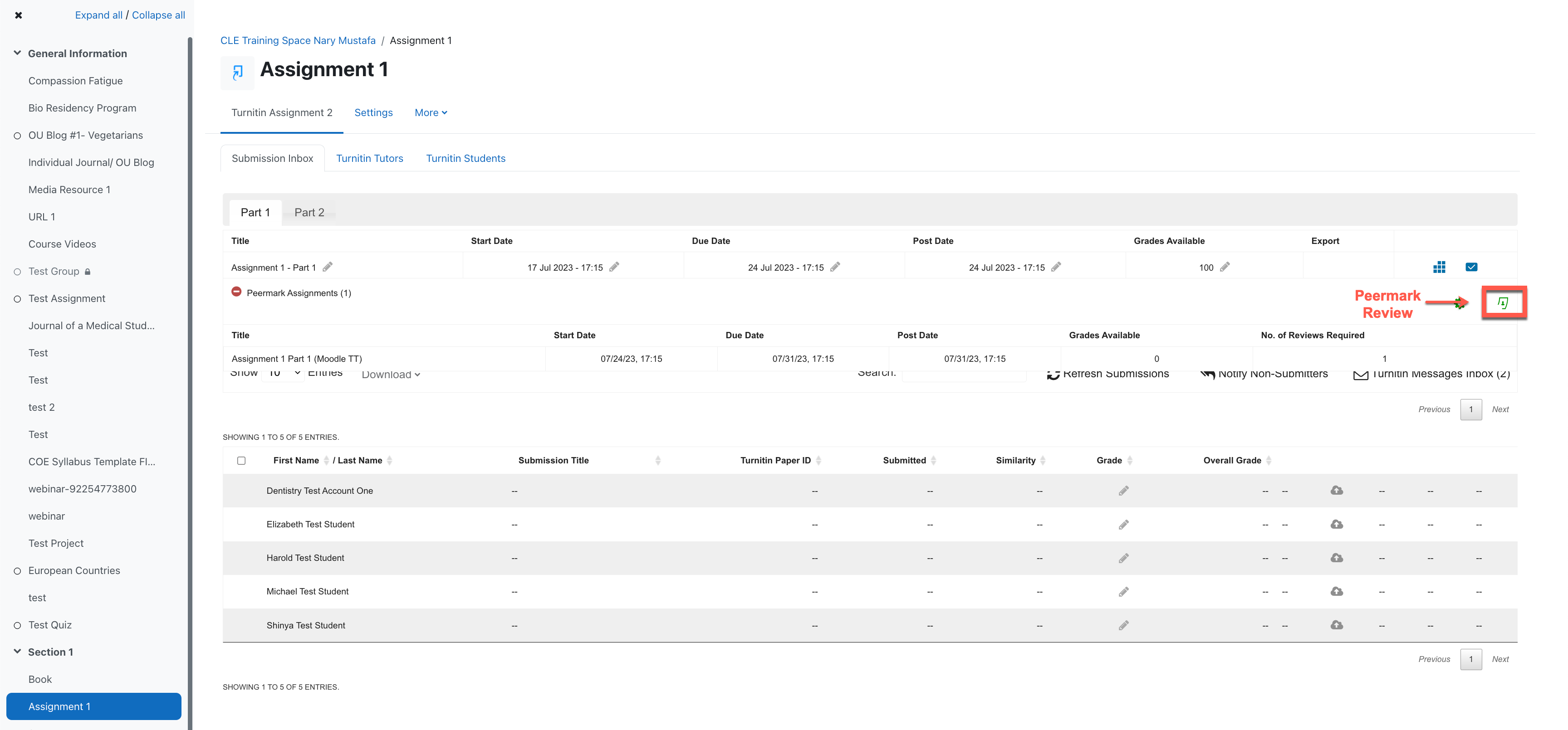 Here you will see statistics based on which students have/have not completed reviews. You can also download a spreadsheet of all the data collected.
Grade: The grade given to the student based on reviews they have provided
Submitted: Click this number to review specific submitted reviews for their paper
Received: Click this number to review specific received reviews for their paper
Click the pencil icon to open an assignment and its reviews.