Learn how to download and navigate the CLE mobile app below. For more mobile apps via UCSF, see Library Resources on a Mobile Device.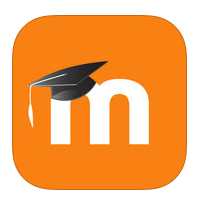 The CLE is accessible via the Moodle mobile app. One of the advantages of using the mobile app is that users can view course activities and download materials for offline use. This allows students to download lecture notes at home and then read them when they are on the go without using their mobile data or WIFI.
The app also sends push notifications if enabled in the settings. This means your students can receive forum post notifications on their devices!
The Moodle Mobile app is available for free from Google Play and the Apple Store.
Download the app from App Store (iOS) or Google Play (Android)
Enter your MyAccess login and password
The CLE dashboard will open to reveal your courses

Desktop App
Note: There is a Moodle desktop app available for macOS and windows, but this does not work with the CLE. Desktop users should use their web browsers to access the CLE.
Access Your Course
Accessing your CLE Courses on the Moodle Mobile App is easy. Open the mobile app, enter your MyAccess Log in and password, and the CLE dashboard will become available. From there, select any course title to access your course.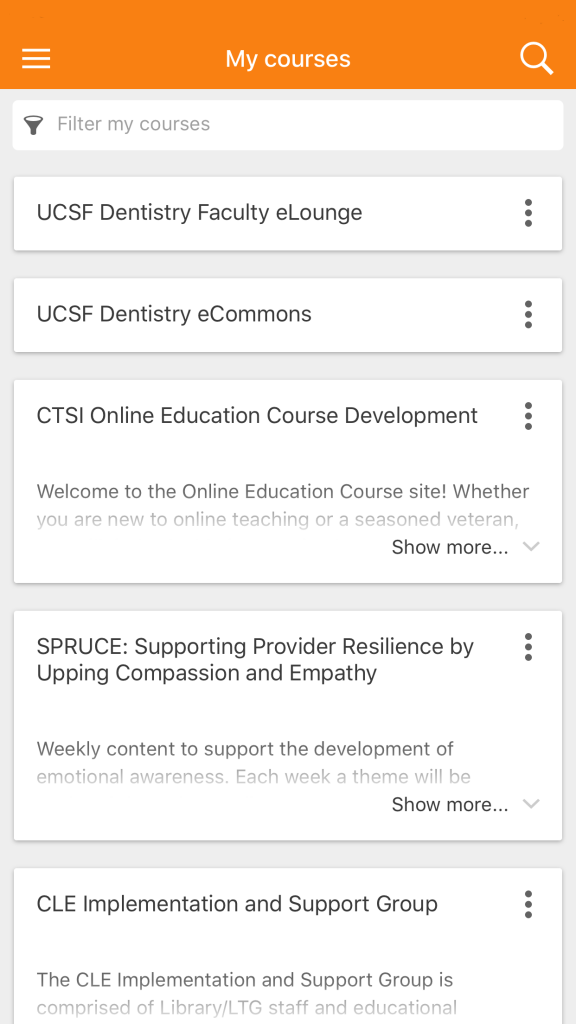 Once you select a course title, the course overview page will appear:
Select the section titles to view resources and activities in that section
The redirect icons next to activities indicate that the item is not supported on the mobile app; select the icon to open the activity in a browser
The cloud icon indicates that the activity can be downloaded for offline viewing.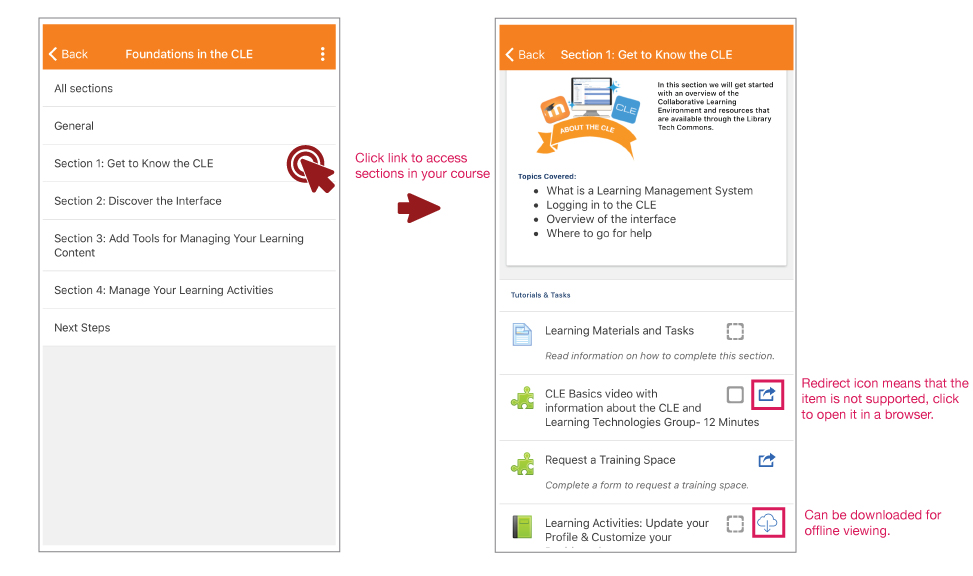 Mobile Notifications Settings
Follow the steps below to set notification preferences.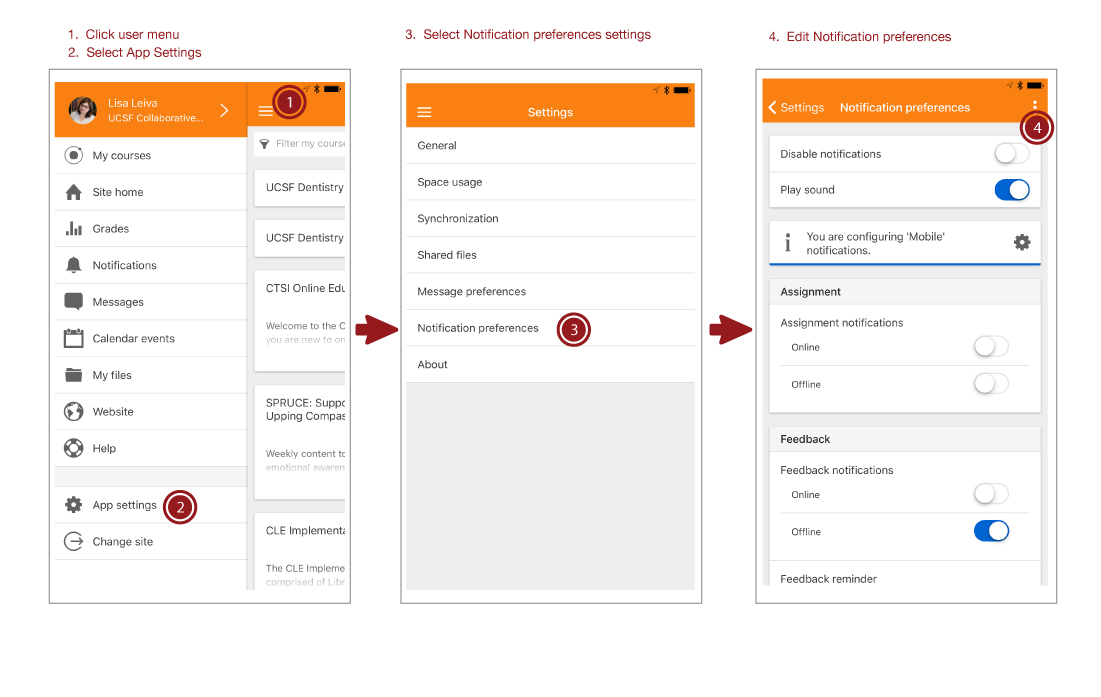 Restrict Access to Activities on the Mobile App
Due to the various types of network connections wifi capabilities, we don't recommend using the mobile app for advanced tasks such as high stakes quizzes and interactive modules. You have the option of preventing students from accessing certain activities or resources in the mobile app by using restrict access. To use the restrict access feature:
Log on the CLE Course you would like to edit and turn editing on
Navigate to the activity you would like to edit->edit settings (located to the right of the activity)
Scroll down to restrict access section and click the restrict access button
Click mobile app to prevent students from accessing activities in the mobile app
Set restrictions and click save, scroll to the bottom of the screen when done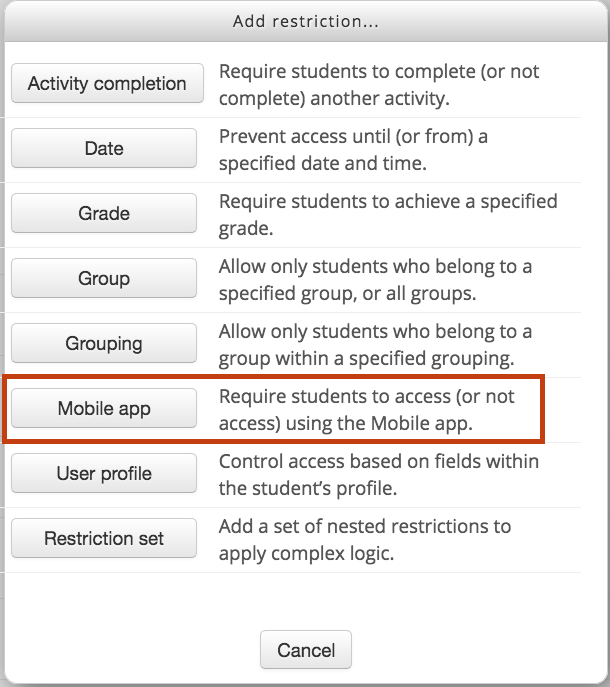 Download resources and activities
Select the cloud icon to download resources or activities. To access the materials when you are offline, log into the course and select the activity or resource to access it.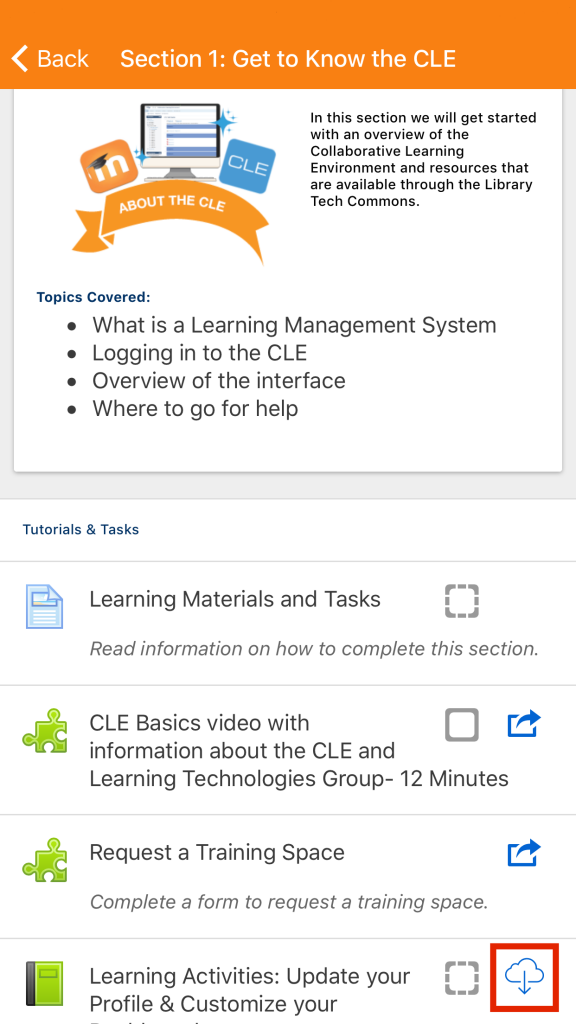 Once you have finished viewing your downloaded resources, you can clear your space usage.
To clear your space usage:
Select the home icon
Select App settings
Select Space usage
Select the trash icon to clear space usage