The following tips will help to make online assessments in the CLE as worry-free as possible for UCSF students. Share these tips with students and contact the Learning Tech Group with your own tips for the Quiz activity!
---
Use a recommended browser

We recommend that you use Firefox to access the CLE, but other browsers such as Chrome and Safari work as well. Certain versions of Internet Explorer have compatibility issues with the CLE and should be avoided.
---
Connect to the UCSF_WPA network

While taking a CLE exam on campus, make sure to use UCSF_WPA and not UCSF_Guest for a more stable connection.
For high-stakes exams such as finals or midterms, or exams with embedded multimedia content such as video, we recommend using a hardwired internet connection.
---
Accidentally exit an exam before submitting?
If you exit a CLE exam because you lost wifi connection or accidentally quit the browser before submitting your attempt, you can return to the exam to continue the attempt within the time limit and close time.
All responses that have been saved will be available when you return to the exam. Remember the CLE saves quiz responses automatically in regular time intervals, and when you move from page to page.
To return to a CLE exam to continue an attempt:
Open your internet browser and navigate back to the CLE exam
Click Continue attempt – all previous responses will display and you can continue with the CLE exam within the time limit
---
Report a problem
If you experience a problem while taking a CLE exam, email the following information to course faculty/staff and copy the Learning Tech Group (learningtech@ucsf.edu):
Title/URL of the CLE course
Name of the exam/quiz
Time and date the problem occurred
Description of problem and screenshots if possible
Copy course faculty/staff on the message so that they are aware of the issue
Please note: The Learning Tech Group is available Monday-Friday, 8:30 am-5 pm. If you encounter an exam problem outside of this time, please follow the steps above and make sure to copy course faculty. A Learning Tech Specialist will respond as soon as they return to the office.
---
Tips for copying and pasting
While taking a CLE exam with essay questions, students will occasionally compose answers in a word processing application and copy and paste the answer into the response field. We strongly recommend using a plain text editor such as Notepad (Windows) or TextEdit (Mac) when composing essay responses outside of the CLE.
See the recommendations below for copying and pasting text from websites or Microsoft Word:
Copy/Paste from a Website into the CLE: When you copy text from a website such as Gmail, often you are copying more than the eye can see. Copying and pasting can carry over some unwanted code that can have the potential to cause problems in a CLE exam. If you copy and paste text from a website, then you should first paste the text into a text editor (such as Notepad or TextEdit) to strip the text of any additional HTML coding it might have before pasting it into the CLE.
Alternatively, you can paste (CTRL + V) text into the text editor and then click on the clear formatting button, which will clean up the text you've copied (CTRL + C) from another source.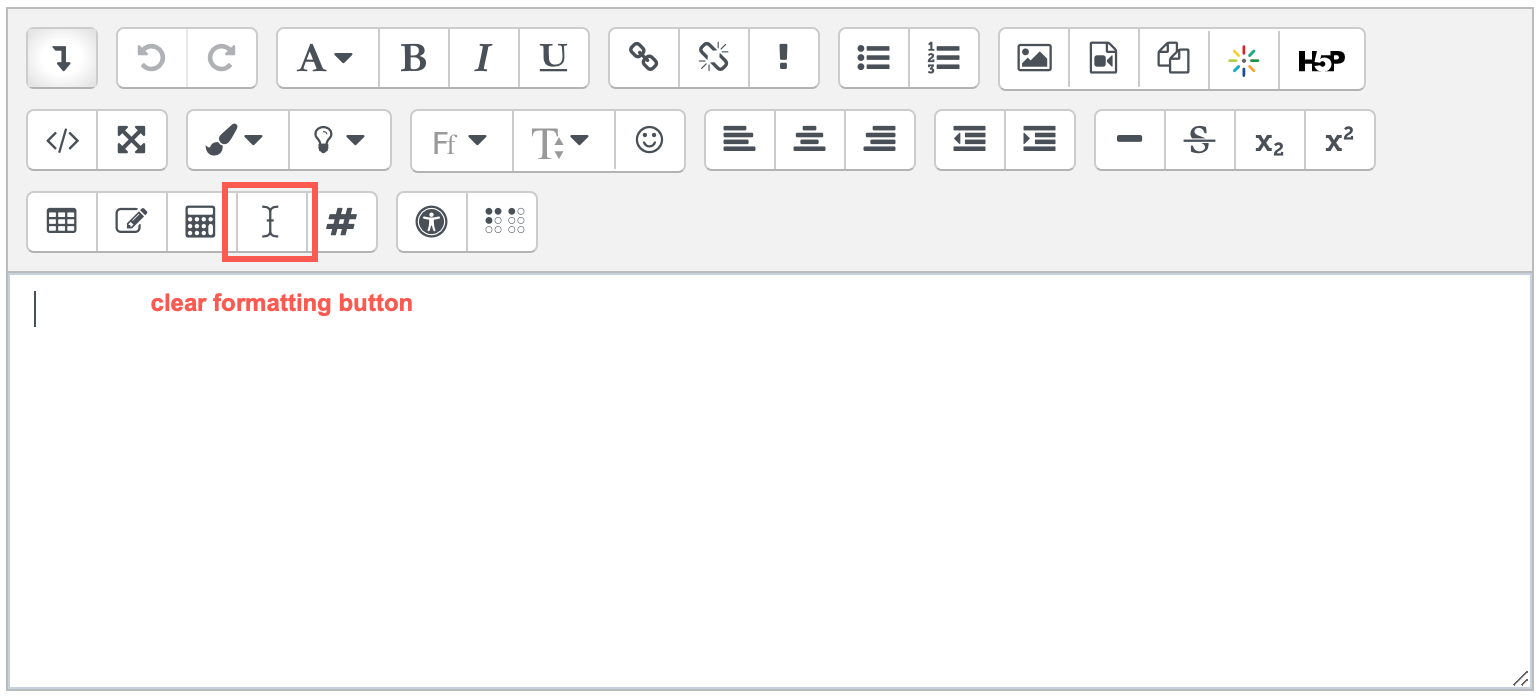 Use keyboard shortcuts to copy and paste text into the text editor. Using the right-click menu to copy/paste in the text editor is no longer supported by web browsers.
---
View your CLE exam grade
Once the faculty has graded an exam, click on the exam link from the main CLE course page to access your grade. From the Quiz Summary page, you will see your raw and adjusted scores in the middle of the page (shown below).
You can also view exam grades by navigating to the Administration block in a CLE course and clicking the Grades link.

If the instructor has configured the exam to allow for review, you will see the Review button in the right column. If available, click Review to review exam questions, your answers, view your score or grade, and read instructor feedback (see screenshot above).
Don't see your CLE exam grade as expected? Contact the faculty of record to inquire when exam grades will be made available to students.
Students in the School of Medicine do not access exam grades from the exam page. Rather, you will be given instructions by course staff as to how to locate and view your grades.