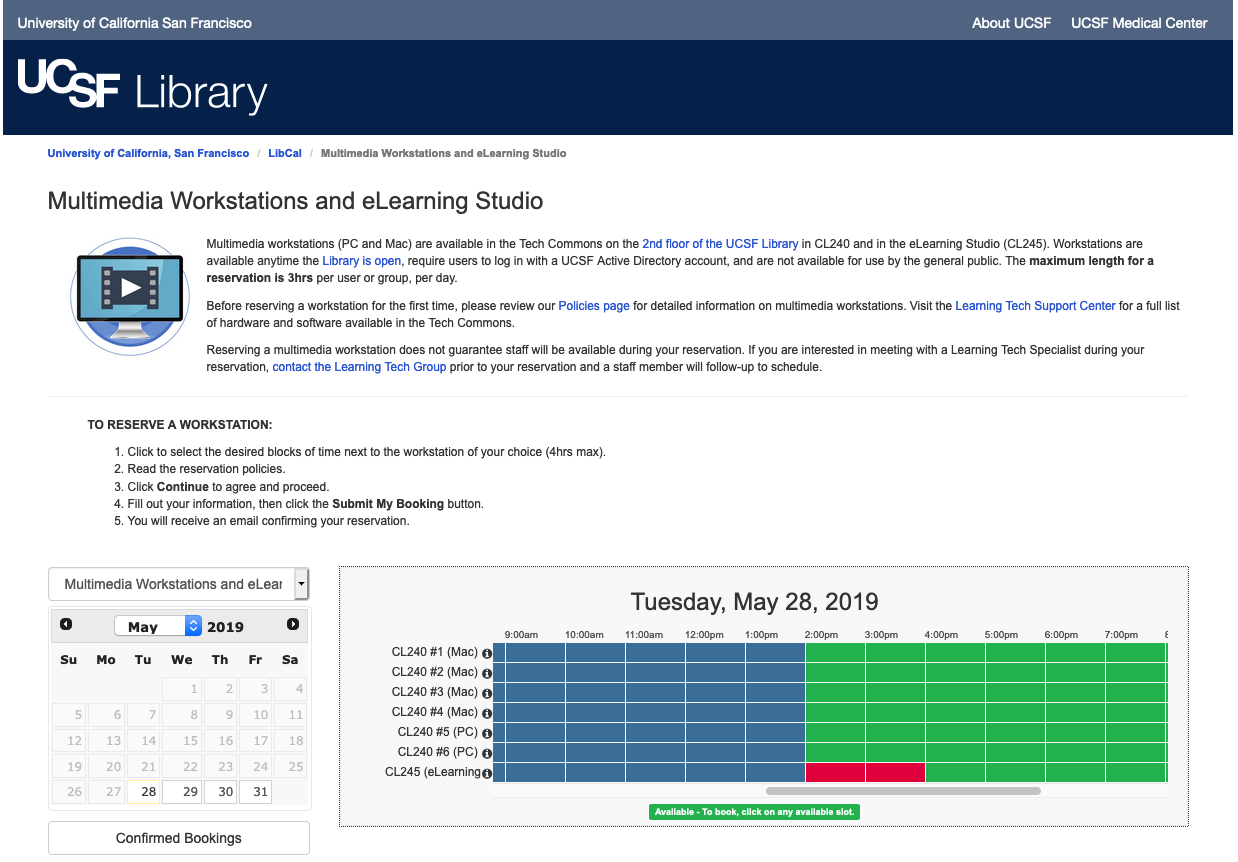 The Library Tech Commons is located in CL240, on the 2nd floor of the Parnassus Library. In addition to student group study rooms, walkstations and the Student Help Desk, the Tech Commons offers access to multimedia workstations that can be used for analog media conversion, screen and audio recording, general design work, scanning, and video editing. All workstations can be reserved online, prior to your visit.
The CL240 lab includes four iMac workstations and two PCs. The CL245 eLearning Studio is located within CL240, and includes an additional iMac and PC workstation. This is a private space for recording and group editing projects.
Most of our multimedia applications are available on the iMac workstations, including Audacity, Camtasia, Final Cut Pro, MPEG Streamclip, and iMovie.
Reservations for the CL240 workstations are recommended, but not required. Reservations for the CL245 eLearning Studio are required. Details about each workstation are available on the reservation calendar.
If you anticipate needing assistance with any of our multimedia hardware devices or software applications, please contact us prior to your visit to CL240 or CL245 to schedule a consultation.
To place a reservation for workstations in CL240 or the CL245 eLearning Studio:
Click the Info button next to each workstation to review the hardware and software available.
Click the Go to Date button to select a date for your reservation.
Click a green block to select the start time for your reservation.
Scroll down, and from the drop-down menu that appears, select an end time for your reservation. Note: maximum reservation time is 3hrs per day.
You will be prompted to log in with your MyAccess credentials, if you have not previously done so.
Review the "Multimedia Workstations and eLearning Studio" policies, and then click the Continue button.
And that's it! You will see a confirmation message, and a confirmation email will be sent to you.
Canceling a reservation: There is a cancellation link in the body of the confirmation email that you receive after submitting a reservation.
Changing a reservation: Unfortunately, you cannot edit your reservation after it has been submitted. You can cancel and create a new one, or contact a Tech Commons staff member, and we can make the change on your behalf.
The workstations in CL240 and CL245 are available free of charge to UCSF students, faculty and staff. The following policies make it possible for us to maintain a high level of service for the UCSF community. Failure to adhere to these policies may result in denial of service and/or the assessment of charges to replace damaged or lost equipment.
CL240 workstation reservations - The maximum reservation time is 3 hours, per user, per day. Drop-ins are welcome, but reservations and multimedia projects take precedence.
CL240 walkstation reservations (treadmill desks) - The maximum reservation time is 1 hour, per user, per day. Drop-ins are welcome, but reservations take precedence.
CL245 eLearning studio reservations - The maximum reservation time is 3 hours, per user or group, per day. This room is used for multimedia project recording and editing. Please do not reserve this room for meetings or study sessions. If the room is not reserved, you may use it for other purposes, but drop-in multimedia projects may still take precedence.
Food and drink - Food and drink is allowed in the Library, however, we ask that you exercise additional restraint when working in the Tech Commons lab. Greasy, messy or odorous foods, as well as open-top drinks are not allowed in CL240 or CL245. If an accident does happen, please alert a staff member immediately, so we can provide cleaning products.
Late arrivals - If you are more than 20 minutes late, you may forfeit your reservation.
Leaving workstations unattended - Do not leave your workstation unattended. Staff are not responsible for stolen items or security breaches to a user's account as a result.
Personal projects - Staff are not able to assist users with questions related to personal projects. Workstations should not be used for personal projects, especially you are preventing others from accessing a workstation for UCSF-related work.
PHI and HIPAA - CL240 is an open environment, and your screen is not protected from the view of others. If you have a project that may contain protected health information, consider reserving the CL245 eLearning Studio. Staff are not responsible for maintaining the privacy of your content.
Public use - Access to our workstations requires a UCSF Active Directory account, and our services are not available to non-UCSF patrons.
Priority of use - The workstations in CL240 and CL245 are optimized for multimedia production, and multimedia projects have priority. For general productivity tasks like word processing, email, and viewing lectures, please use the treadmill walkstations, or any workstation in the adjacent CL230/231 computer lab.
Drop-ins - To guarantee your time on a workstation, make a reservation prior to your visit. If another user is present when you arrive at your reserved workstation, please ask a staff member for assistance.
Saving files - All user files are

automatically deleted

from each workstation every night, and every time a workstation is rebooted. Always store your files on an external hard drive, a USB flash drive, or UCSF Box before logging off. If you are working on a multimedia project, we offer external hard drives for loan.
Thank you for reviewing our policies, and for being respectful of our staff and other visitors in the Library Tech Commons.