The Collaborative Learning Environment (CLE) comes packed with new features and improvements to enhance the teaching and learning experience. Among these updates are enhancements to the media management and analytics features, notably the introduction of My Kaltura Media and Media Gallery, along with improved View Analytics options. In this article, we'll delve into the differences between My Media and Media Gallery and explore the revamped View Analytics in the CLE.
Click on each tab to learn more.
My Media: Your Personal Media Hub
My Kaltura Media is an individualized space for both instructors and students to manage their multimedia content within the CLE. It serves as a repository for uploading, organizing, and accessing various media files such as videos, audio recordings, and images. This feature is particularly useful for users who want to maintain a dedicated collection of media assets related to their courses or personal learning journeys.
Key features of My Kaltura Media include:
Centralized Storage: Users can upload their media files directly to My Kaltura Media, eliminating the need to store files on external platforms.
Organization: The feature offers tools to categorize and tag media files, making it easy to locate specific content quickly.
Integration: Instructors can seamlessly embed media from My Kaltura Media into their courses, enriching the learning experience with multimedia content.
To access the My Kaltura Media and view analytics for each individual video in My Kaltura Media, you should do the following:
Navigate to your CLE course and select My Kaltura Media from the User drop-down menu.
Click on the Analytics bar graph next to the desired video to access the analytics page.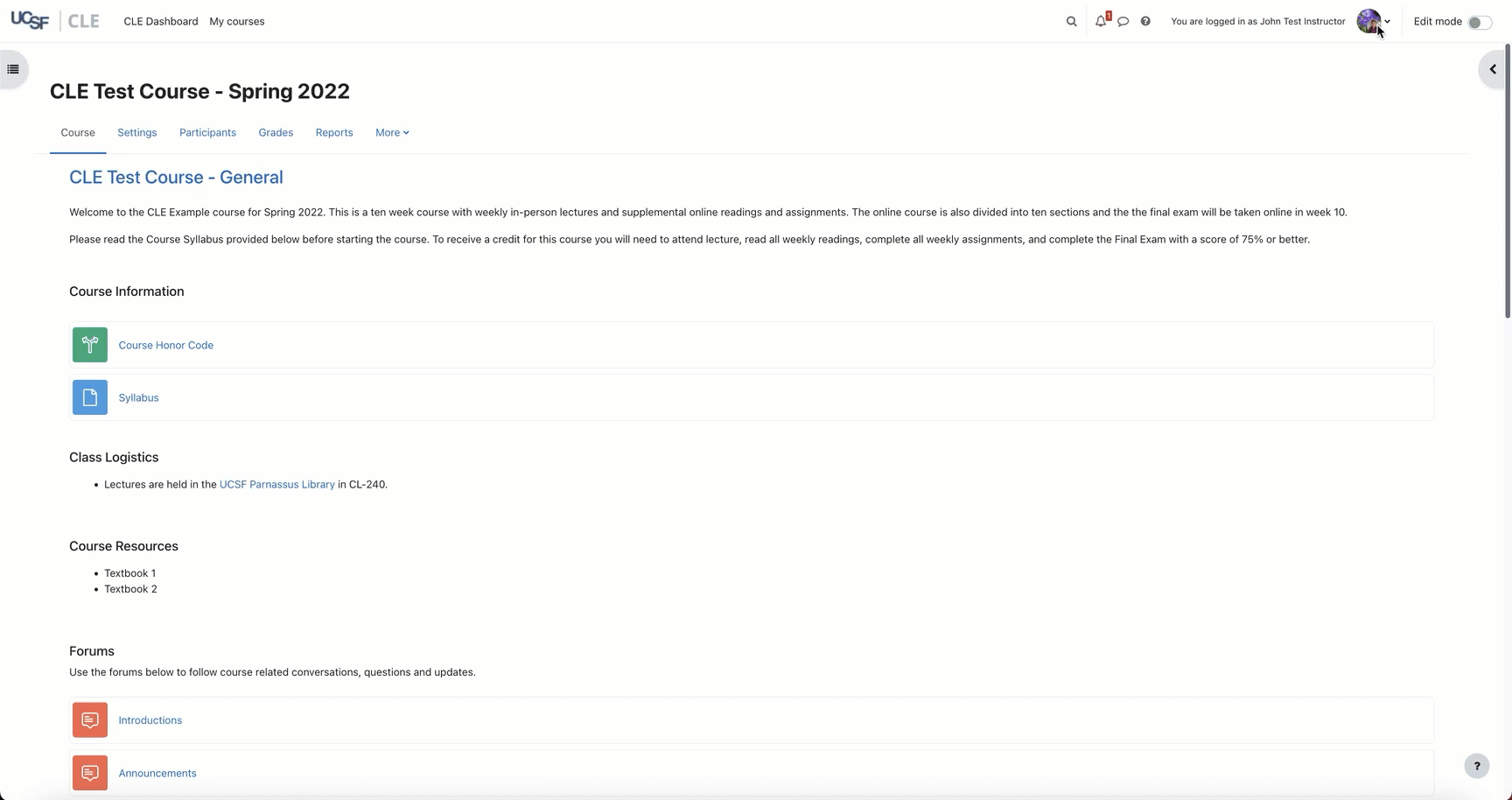 Media Gallery: Collaborative Multimedia Showcase
The Media Gallery is a shared space within the CLE where instructors can curate collections of media content for their courses. It facilitates collaborative learning by allowing users to view, engage with, and comment on multimedia items curated by the instructor.
Key features of the Media Gallery include:
Course Integration: Instructors can create galleries specific to a course, enabling them to organize media content according to their curriculum.
Interactive Engagement: Students can access and engage with multimedia content uploaded by the instructor, fostering active participation and deeper understanding.
Discussion and Collaboration: The Media Gallery encourages discussions through comments, allowing students to express their thoughts on specific multimedia pieces.
To access the Media Gallery and view analytics to all the videos in the Media Gallery, you should do the following:
Navigate to your CLE course select Media Gallery from the Secondary navigation bar and hover over More.
Click on the Media Gallery from the drop-down menu.
Select Analytics from the Actions drop-down menu under the three horizontal lines in the top right.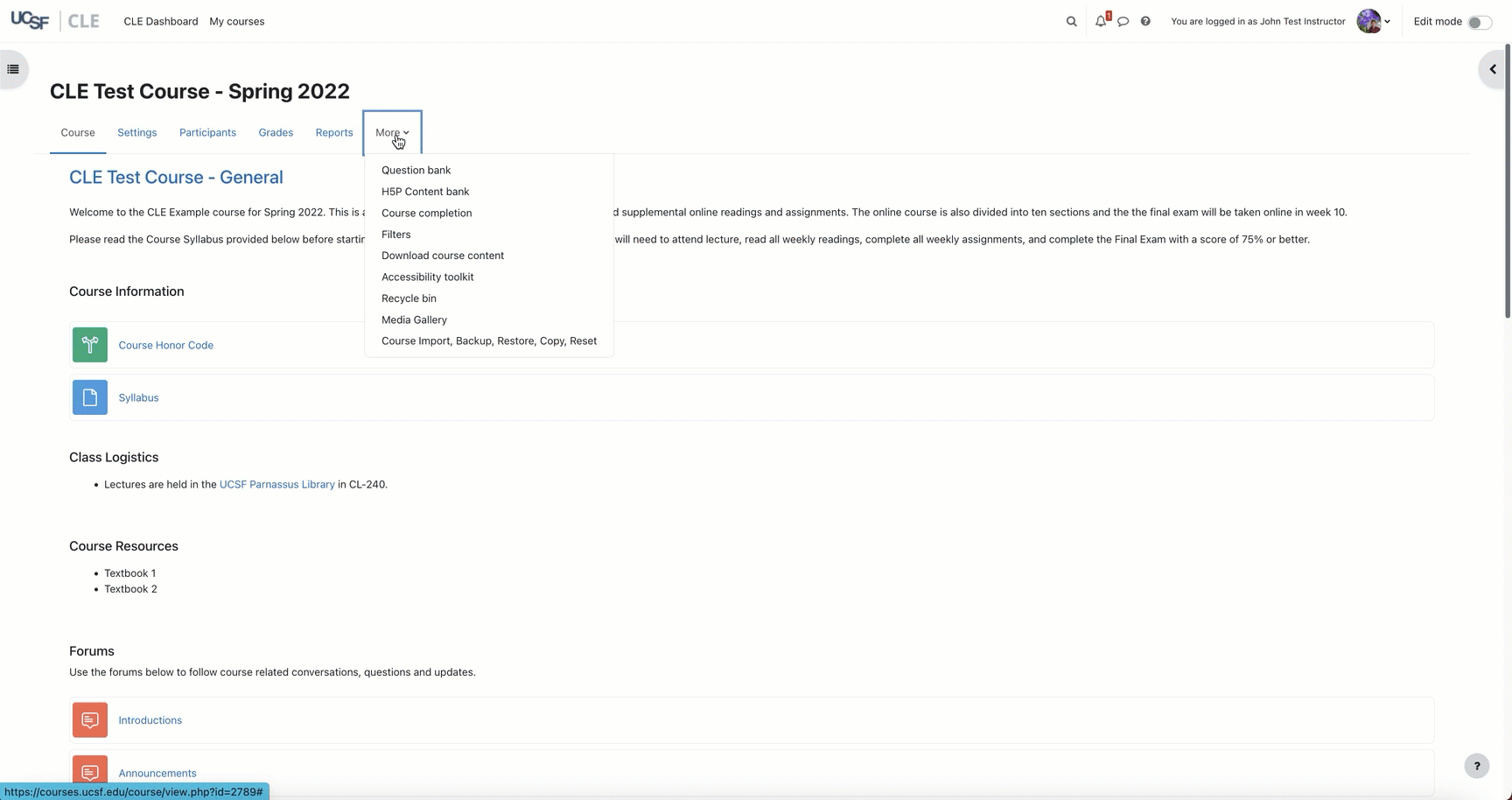 View Analytics: Insights into Media Engagement
In the CLE, the View Analytics feature has undergone significant improvements to provide instructors with comprehensive insights into how students are engaging with media content. This feature enables educators to make data-driven decisions to enhance the effectiveness of their teaching strategies.
Key analytics offered by the View Analytics feature include:
1. Viewing Patterns: Instructors can track which media files are being viewed most frequently, helping them identify popular content.
2. Engagement Metrics: The feature provides data on how long students are engaging with each media item, offering insights into user behavior.
3. Drop-off Points: Instructors can identify points in media content where students tend to disengage, allowing them to refine and improve their content.
4. User-Level Analytics: Instructors can gain a holistic view of individual student engagement, aiding in personalized support and intervention.
Furthermore, the Video Quiz feature enables creators of quizzes and media, as well as co-editors, to access analytics related to quizzes and the users who have completed them. If you're interested in learning more about the analytics offered by the video quiz feature, you can watch the video provided below.