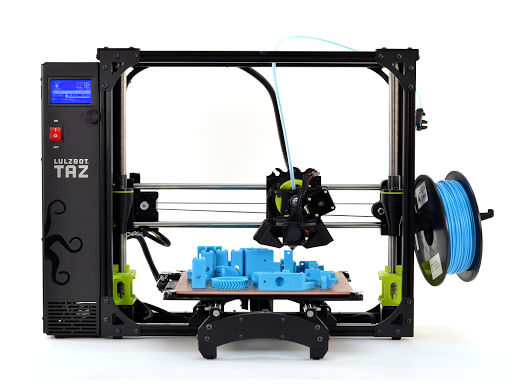 The LulzBot TAZ 6 is a versatile, high performance desktop 3D printer for industrial users that respects your freedom to create. Material for printing consist primarily of PLA filament. See a list of commonly used 3D printing filament. For other specialty filament requests, contact the Makers Lab to discuss availability.
Attending the monthly 3D Printing Part I pop-up is recommended prior to using the LulzBot TAZ 6.
Want to print with two types of material at once, or need to print something larger? Take a look at available LulzBot Extruders.
Resources
Specs
Print area: 280 mm x 280 mm x 250 mm
Layer resolution with 0.5mm nozzle: 0.05mm to 0.4 mm
Top print speed: 200mm/sec (7.9in/sec)
Usable filament sizes: standard 3mm
Print surface: Heated borosilicate glass bed covered with PEI print surface