What is FeedbackFruits?
FeedbackFruits is an all-in-one tool suite that integrates seamlessly with the UCSF CLE. It includes 15 tools designed to boost student engagement and collaboration for synchronous and/or asynchronous learning experiences.
A variety of tools to suit your needs: The FeedbackFruits suite offers several tools that address needs identified across UCSF schools and programs, including authentic assessment, peer review, collaborative content, group work and team-based learning, plus opportunities for instructors and learners to use text, audio, and video when submitting assignments and giving feedback. Explore the FeedbackFruits tool suite for UCSF to learn more.


Streamlined workflow: To help streamline workflows for faculty, graders and course developers, FeedbackFruits syncs with the CLE gradebook and learner groups or sections, and it supports re-usable rubrics

and activity templates and copying that may be shared across instructors, courses or departments.


Learning analytics for admins, instructors and learners: FeedbackFruits provides data and learner analytics to help gain insights about student engagement, student progress, group and teamwork, details of interactions with content, and more.  


24-hour Just-In-Time Support Weekdays. FeedbackFruits offers 24-hour just-in-time live support Monday through Friday for faculty, staff and learners with response times averaging under 5 minutes within all FeedbackFruits activities
How do I use FeedbackFruits tools in the UCSF CLE? 
The FeedbackFruits tools function just like the CLE course activities and resources you're already familiar with. 
To use FeedbackFruits tools in the UCSF CLE: 
Enable edit mode in your CLE course;
Add an activity (like you otherwise would for any activities/resources); and
Select 'external tools.' FeedbackFruits will be a choice in the drop-down menu under 'preconfigured tools.'  Then, you can configure settings for each tool as desired.
Learn how to use FeedbackFruits in Your Courses
We encourage you to join our asynchronous FeedbackFruits UCSF Community Hub course in the CLE  to access resources and guides on how to effectively implement FeedbackFruits in your courses and maximize its pedagogical value for your learners. In this course, you'll find:
A launch page, 'Exploring FeedbackFruits at UCSF,' with short video demos and use cases for each tool, a decision tree to help you choose the tool(s) and

 

'

learning path

'

 

suitable for your needs, and more.

A sample

 

'

course

'

 

where you can experience each tool as a student.

A '

sandbox

'

 

where you can login as an instructor to start creating FeedbackFruits




activities and assignments of your own.
Stay tuned for more!
We are confident that the FeedbackFruits tool suite will inspire you to think about new approaches to teaching and collaboration, amplifying the impact on learners and the academic community at UCSF.
Stay tuned for further updates as we complete the FeedbackFruits integration and provide additional training resources and support services soon. 
Overview of FeedbackFruits Tools
Image description: Table listing each FeedbackFruits tool with a description and example use-cases.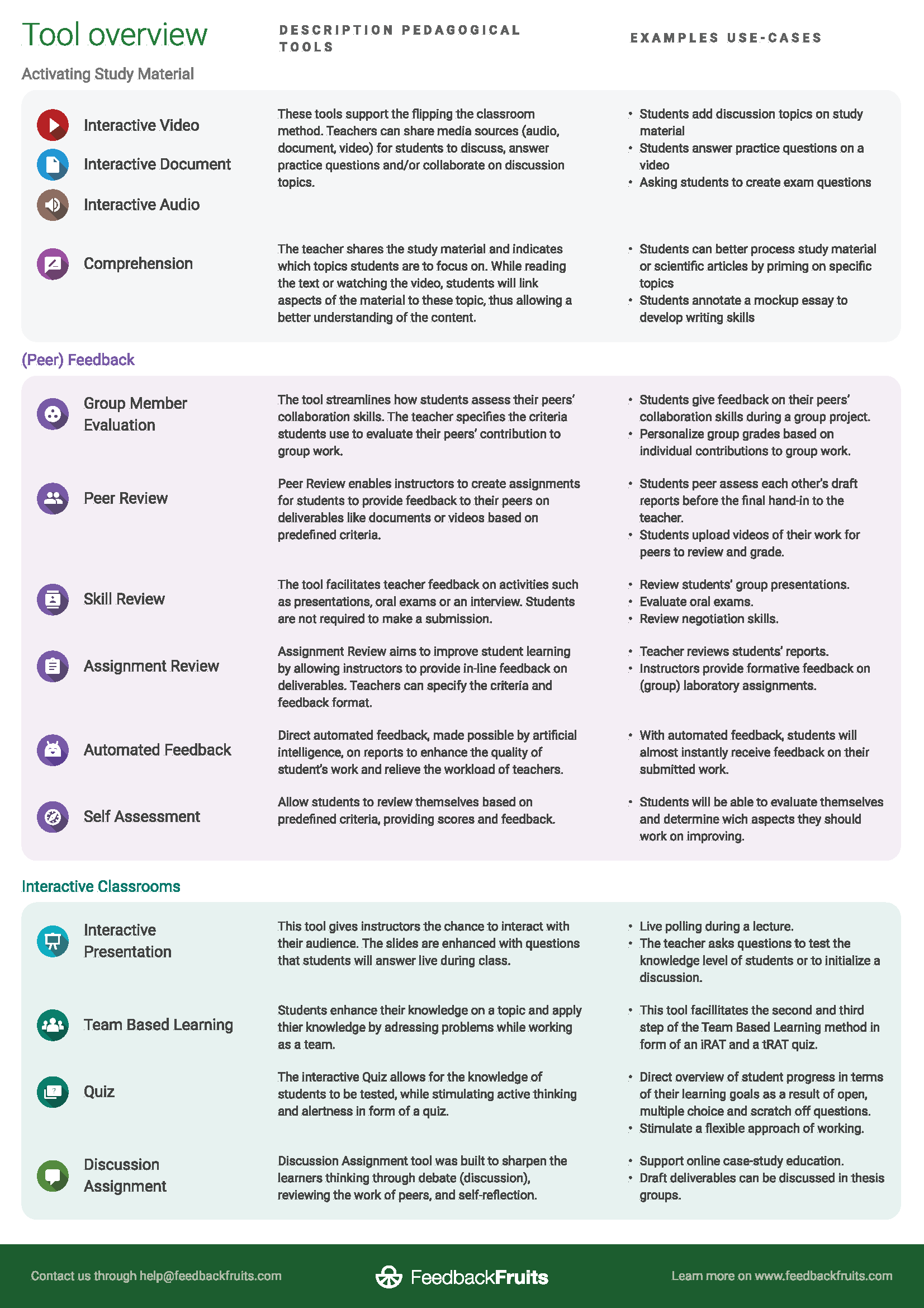 FeedbackFruits Customer Support
An extensive help center

 

with guides, how-tos and explainers.
Email help@feedbackfruits.com for assistance.
To access the 24-hour just-in-time support weekdays within the tools, click the blue chat box in the lower left corner of any FeedbackFruits activity/resource.