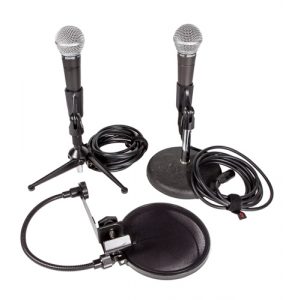 The Library Tech Commons offers a collection of audio/visual hardware for a variety of video production needs. Equipment can be checked out by UCSF faculty, staff and students. The Shure Handheld Microphones kit includes two Shure SM58 microphones, two table-top stands and two XLR cables (each 10ft in length). These mics can be connected to any audio broadcast or recording device that accepts XLR input, including our H5 Handy Recorder.
Use cases for this kit include:
Conduct a formal interview
Record man-on-the-street audio interviews
Connect to the H5 and capture a musical performance
Connect to your own XLR-capable audio recording device
Pairs with: Zoom H5 Handy Recorder.
To use the Shure SM58 microphones, follow these basics steps.
Connect cables – Connect the male end of the XLR cable to the Sure SM58 microphone. Line up the grooved notch, and seat the cable until it clicks, locking in place.

Mic stands – If using the table-top mic stands, place the cable through the opening in the stand, and then

slide

the mic back into place until it is held firmly in place. DO NOT try to press the barrel of the mic down into the holder (it slides into place, it does not "snap" into place).

Pop filter (optional) – One "pop filter" is included in the kit. The filter helps to minimize the sharp "p" sounds that some speaker make when talking. Loosen the bolt and then attach the pop filter's bracket to a mic stand. Loosen the filter holder, attached the screen, and re-tighten. Position between the mic and the speaker's mouth.

Record – Using your recording device, adjust levels and record!
These additional notes will help you use the H5 smarter and avoid common pitfalls.
What is "XLR?" – XLR is an electrical connector style commonly used for professional microphones. XLR mics are well protected from interference, and produce consistent, high quality, balanced sound. They generally produce higher quality sound than mics that use a standard 3.5mm connection.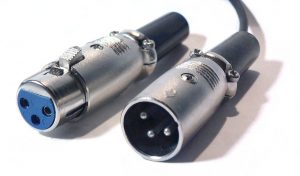 Mic pickup pattern – The Sure SM58's record in the "polar cardiod" pickup pattern, meaning the space directly in front of the mic is most sensitive, the sides are less sensitive, and the rear is ignored. For more information an graphics illustrating the pattern, check out this document.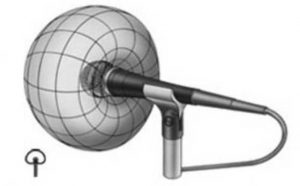 Mic positioning – Professional voice actors and singers are generally very close to the mic when performing, anywhere between 1″ and 6″. This may seem uncomfortably close, and for our uses, it's not always necessary to be that close, but closer is usually better. It is also important to physically move your head closer to the mic when speaking softly, and back away when speaking loudly.
Ruggedness – The Sure SM58 mics are widely regarded for their solid construction. That being said, never drop the mic intentionally, knock against it during a "sound check," or expose the microphone to rain or adverse weather conditions!
Shure SM58 product page – http://www.shure.com/americas/products/microphones/sm/sm58-vocal-microphone
The approximate value of this kit is $350. If anything is lost or damaged during your loan, you are responsible for replacing those items.
Reservations can be made using our online reservation calendar.
The maximum loan time for this device is 4 days. Staff are available Monday, Tuesday and Thursday from 9am to 12n, in CL240 of the Parnassus Library for equipment check-out. Equipment can only be used for UCSF related activities, by UCSF students, staff and faculty. More information about the reservation process and our policies can be found here: How to Reserve Equipment.