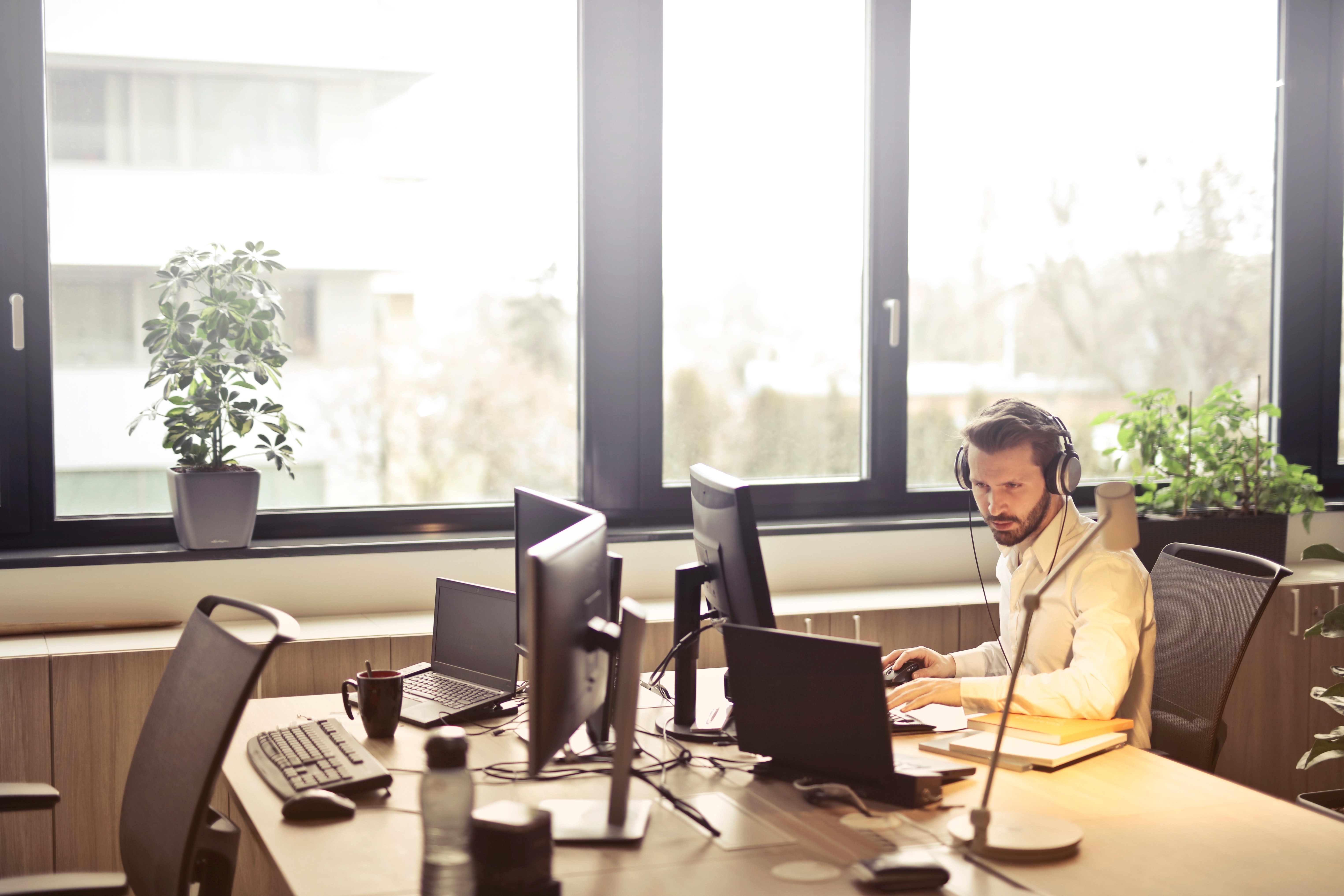 The online classroom and the applications that make it possible are essential to the teaching and learning process, now more than ever. Several tools contribute to the online classroom, including the CLE, Media@UCSF, and more. This helpful article collects resources and best practices related to teaching with Zoom, the video conferencing tool of choice at UCSF.
Zoom features for the online classroom:
Broadcast live lectures to a group of students, including screen sharing, video, and text chat
Invite guest lecturers to present from off-site locations
Facilitate multiple breakout rooms for small groups within a single Zoom meeting
Record your screen, webcam, and audio to produce shareable video files
Deliver live webinars to very large audiences
Help guides and resources:
Support contacts:
Zoom updates
Zoom application updates are not pushed to your device automatically. Check for updates often to avoid issues! Question about updating your Zoom app? Contact UCSF IT.
Do you have a useful resource or suggestion for improving this helpful article? Please contact us!
Any Zoom meeting can be recorded and then distributed to others with a streaming video or file repository system. This recording feature has several uses for academic programs, including:
Anyone who missed the live teaching session can watch the recording later
Students can review important information while studying for exams
Instructors and guest speakers can pre-record lectures
Due to privacy concerns, recording to the cloud is not an option for UCSF Zoom users. All recordings are saved locally to the recording host's computer. Additional information about local recording is available on the Zoom website.
Settings
Zoom website

To review and adjust recording settings before launching a Zoom meeting, log in to https://ucsf.zoom.us/ with your MyAccess credentials. Then, click the Settings link from the navigation column, and open the Recording tab.
Changes are applied immediately. A "Reset" text link will appear next to the changed settings, allowing you to revert to the default.
Zoom application

Additional recording settings are available from within the Zoom application. Open Zoom from your Windows start menu or Mac applications folder. Then click the settings icon, and select Recording from the navigation column.
Make note of the "Store my recordings at" option. This is where your completed recordings will be stored by Zoom.
Recording
Begin by opening a new Zoom meeting from an invite link, the UCSF Zoom website, or the Zoom application on your computer. Once launched, hosts will see a Record button in the Zoom toolbar. Click the Record button to begin recording.

If you don't see the Record button, either (a), increase the size of the Zoom window, or (b) click the More button and then choose Record from the pop-up menu.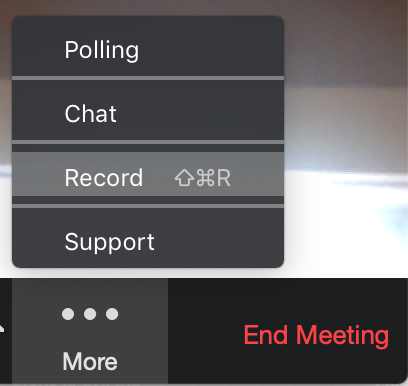 By default, the Record button is only available to hosts. If you are a host and wish to allow participants to record the meeting, open the Manage Participants window, click the More button next to a participant's name, and select the Allow Record option.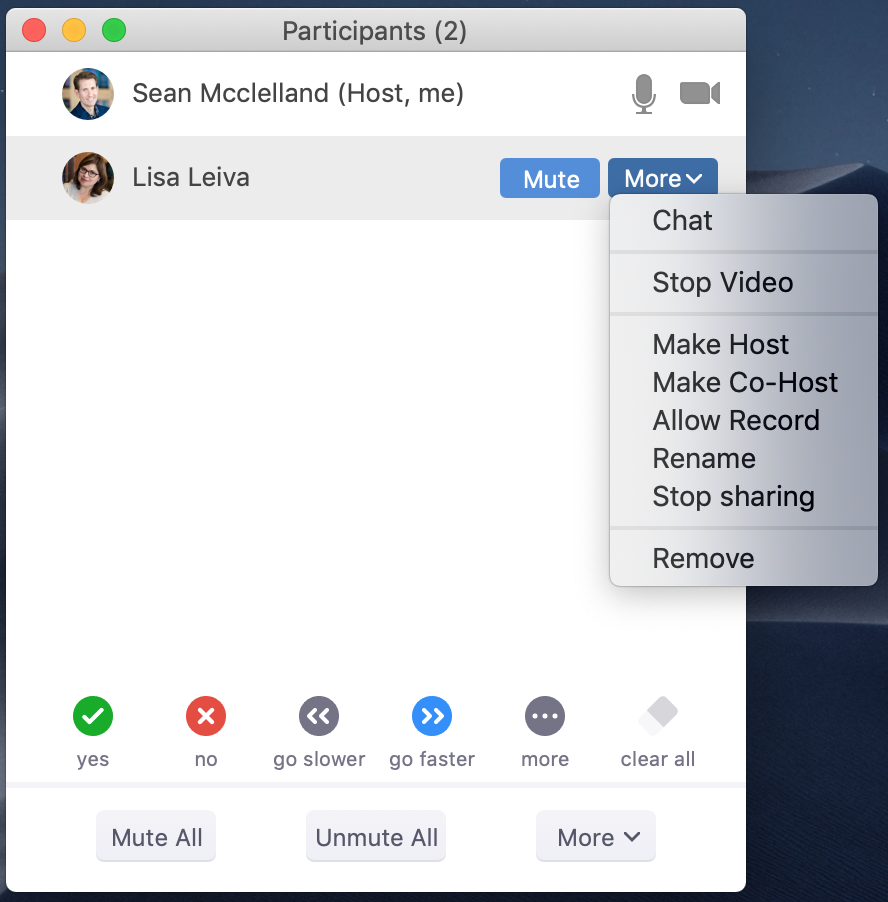 Processing
When the Zoom meeting is finished, click the Stop Recording button and end the meeting.
Your recording files are automatically saved to your storage location. The default location for recordings files is the same on both Macs and PCs: Documents > Zoom

Before the recordings can be shared, they must go through a conversion process. This happens automatically, but if you interrupt processing (i.e. turn your computer off), you can open the folder and double-click the .zoom files to restart the processing step.
When complete, you will have two shareable files:
.mp4 - video file
.m4a - audio-only version

Uploading to CLE
The most common method for sharing videos with learners is through a CLE course, and utilizing the Media@UCSF streaming media plug-in. You will need to upload the Zoom MP4 video file to the CLE, and then post it somewhere for others to see. There are several options for sharing video in the CLE with the Media@UCSF plug-in, including the Media Resource, which provides a link on the home page of your course to the video, and the HTML toolbar button which allows you to embed the video anywhere you can type text (i.e. forum posts, pages, labels).
Step-by-step instructions for uploading and sharing is provided in this help document.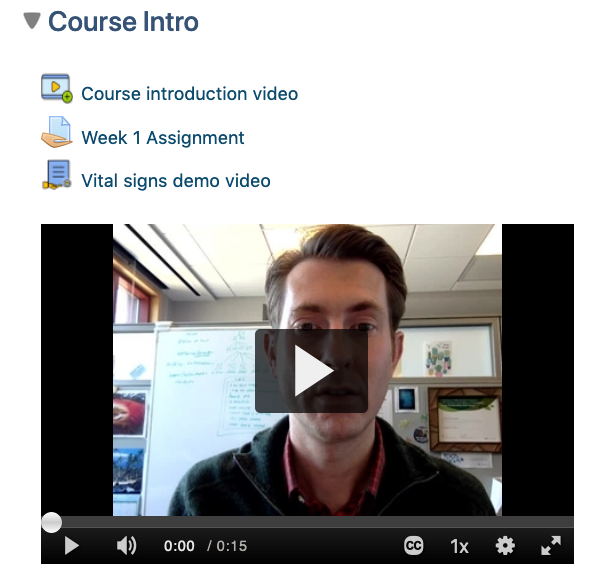 Other distribution options
If you are not a CLE user and wish to share Zoom recordings, there are other options to explore:
Recording with Media@UCSF
CLE users can also create pre-recorded lectures, or screen recordings (a.k.a. voice-over-PowerPoint) with Media@UCSF. This system is integrated with the CLE, and provides a seamless workflow for recording, uploading, and sharing recorded video with learners in a CLE course. More info is provided here.
Zoom offers a built-in transcription feature that allows meeting hosts to enable computer-generated live transcriptions. This allows meeting participants to see closed captions of the conversation in real time. This feature is free to use and available to all UCSF Zoom meeting hosts and participants.
If you are faculty or staff and using Zoom to lead academic courses, you may also be eligible to use the Otter transcription service, which integrates with Zoom to provide additional transcription features including transcript editing, sharing with groups, and adding captions to previously recorded videos. Learn more here: Otter: Overview.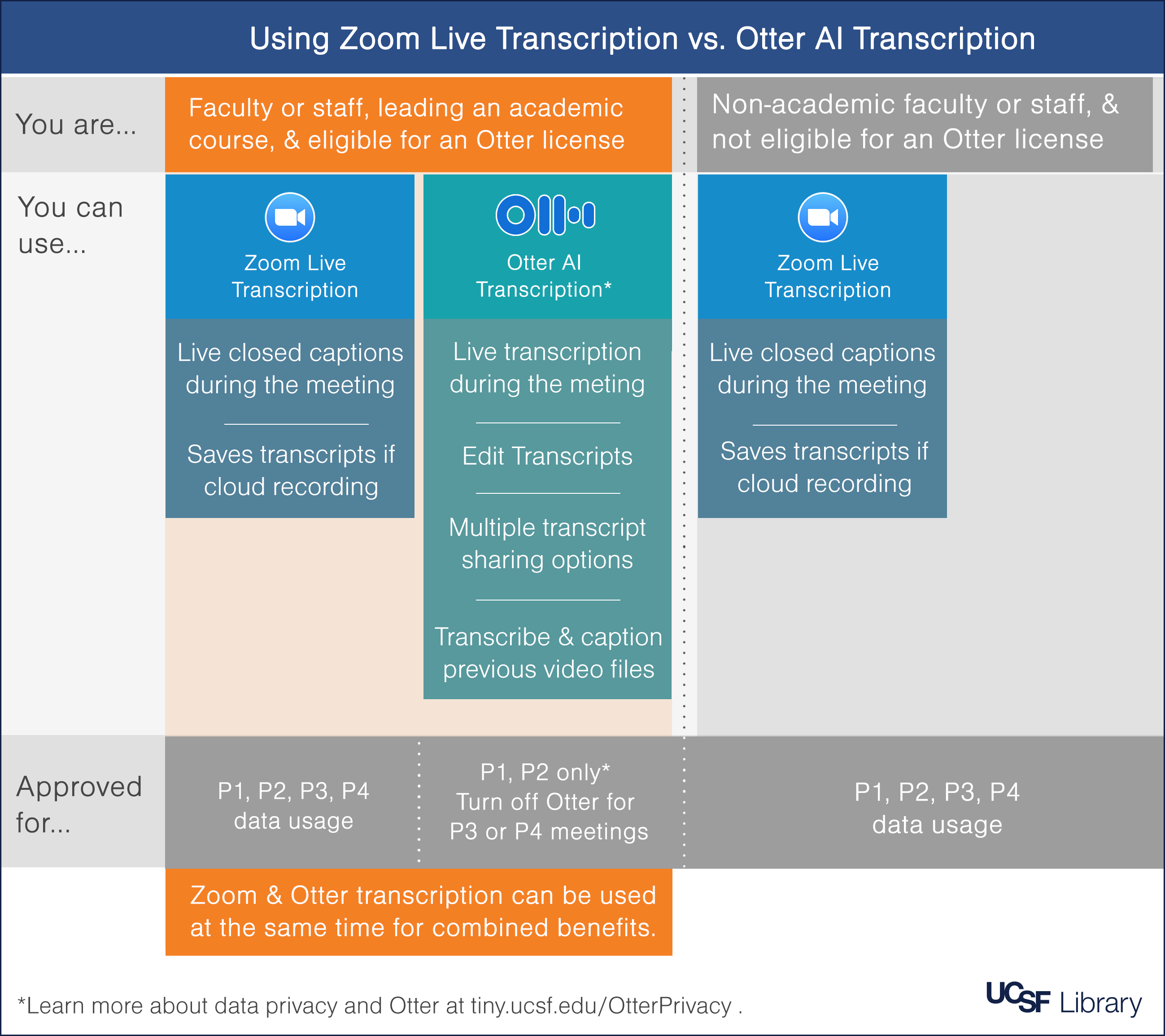 Enabling Live Transcripts in Zoom
To enable Live Transcription during a Zoom session, follow the steps below:
Start a Zoom meeting. You must be the host.
Click the CC Live Transcript button at the bottom of your Zoom window.
Click the Enable Auto Transcription button.
Your meeting participants will now see the CC Live Transcript button at the bottom of their Zoom window. They can click the button to turn captions on and off.
Additionally, participants can also choose to view the transcript in a side panel within their Zoom window. From this panel, they will be able to scroll through the conversation, and they can click the Save Transcript button to download a copy of the transcript.
Transcripts and Recording
If you host a Zoom meeting and want a copy of the transcript after the meeting ends, including a VTT closed caption file, you must record the meeting using the Record to Cloud option. Choosing the Record on this Computer option will not generate a transcript file for future use. More information is available on the IT support website: Zoom Cloud Recording.
When Zoom sessions are recorded to the cloud, you will receive an email with a link to the recordings in your account on the Zoom website. This includes a video file, an audio file, and the transcript in VTT format. The transcript file may take a few hours to process before it is available for download.
Additional Information
Zoom Live Transcription
Otter Transcription
Breakout Rooms allow you to split your Zoom meeting into separate sessions. The meeting host can choose to split the participants of the meeting into these separate sessions automatically or manually and can switch between sessions at any time.
Up to 50 breakout rooms can be created
Max 200 total participants across all breakout rooms
Breakout room participants have full audio, video, and screen share capabilities
NOTE: If the meeting is being recorded, it will only record the main room, regardless of what room the meeting host is in.
Enable Breakout Rooms In Your Account Settings
To enable the Breakout Room feature:
Sign in to the Zoom web portal.
Click settings.
Navigate to the Meeting (advanced) section, check the Breakout Room option, and verify that the setting is enabled. If the setting is disabled, click the toggle to enable it. If a verification dialog displays, choose Turn On to verify the change.

(Optional) Click the checkbox to allow meeting hosts to pre-assign participants to breakout rooms.
Creating Breakout Rooms
Note: You can also pre-assign participants to breakout rooms when you schedule the meeting instead of managing them during the meeting.
Start an instant or scheduled meeting.
Click

Breakout Rooms.

Select the number of rooms you would like to create, and how you would like to assign your participants to those rooms:
Click

Create Rooms.
Your rooms will be created, but will not start automatically. You can manage the rooms before starting them by following the instructions below.
Scheduling Privilege
If breakout rooms do not meet your needs, and you wish to create multiple Zoom meetings for one particular online class period, you may find the Scheduling Privilege feature useful. It allows one Zoom user to grant another Zoom user the ability to create meetings on their behalf. For example, students may grant a course coordinator "scheduling privileges" to create these additional Zoom meetings on their behalf (so the student is the host).
The following list provides tips, tricks, and best practices for using Zoom more efficiently.
Maximum number of participants
The maximum number of participants in a single Zoom meeting is 300, including 50 co-hosts.
VPN + Zoom
You do not need an active
VPN
session to use Zoom. We strongly recommend that you
disconnect from VPN before joining a Zoom meeting
, because the systems may conflict and you are likely to experience connection issues as a result.
Zoom Bombing
Zoom-bombing is the term for disruptions caused by uninvited individuals who join Zoom meetings and bombard real attendees with offensive language and imagery. The most effective method for avoiding this problem is to refrain from sharing links to your Zoom meetings in public online spaces. For more information please refer to the UCSF IT
recommended security settings
page, and
this guide
from ETS.
HIPAA Compliance
UCSF has a signed BAA (business associate agreement) with Zoom that ensures the privacy of our students, faculty, patients, and staff. You can read more about the details of HIPAA and Zoom in
this PDF
. Additional privacy information from Zoom is
available here
.
Recording a specific Zoom layout
The recording layout follows the video layout of the participant or host that started the recording. For example, if the host starts a recording while in active speaker view (the default view), the recording layout will be in active speaker view for the duration of the recording. For more information, please refer to the
Zoom website
.
Zoom Meeting Vs. Zoom Webinar
Meetings are designed to be collaborative events with all participants being able to screen share, turn on their video and audio, and see who else is in attendance. Webinars are designed for large audiences (can accommodate thousands!), similar to a town hall, and only the hosts can share their video, audio, and screen. At UCSF, there is a fee associated with hosting webinars. For more information on webinars, please refer to the
Zoom website
, or contact
UCSF IT
to schedule a webinar.
Mute All
To mute all participants at once, click the Mute All button at the bottom of the Manage Participants window. This button is only available to meeting hosts. Details are
provided here
.
Space bar mute
If your microphone audio is muted during a Zoom meeting, you can press and hold the space bar on your keyboard to temporarily unmute yourself. When you are done speaking, just release the space bar to mute yourself again.
Keyboard shortcuts
A few of our favorites are Cmd/Ctrl+U to show/hide the participants panel, and Cmd/Ctrl+H to show/hide the chat panel. A full list of Mac and PC keyboard shortcuts is
available here
.
Virtual Background
If you are Zooming from a cluttered space, or you are Zooming from home, try out the Virtual background feature! You can easily hide your background and replace it with any image or video. We recommend simple, plain backgrounds that are not distracting to others. There are
UCSF-branded backgrounds
available, and more information is
available here
.
CLE Zoom plug-in tips
The "Zoom meeting" activity in the CLE provides a quick and easy way to add Zoom meeting links to your CLE course. But did you know that Zoom meetings added this way also appear in the CLE course calendar for students? Also note, the "Recurring" option in the CLE Zoom activity does not provide options for specific dates and times (as you are used to with Outlook appointments). Instead, this option leaves this Zoom meeting open indefinitely. One use for recurring Zoom meetings in the CLE is an always-open study room for students. More info is
available here
.
Etiquette, best practices, and help resources